Tegucigalpa doesn't have a great reputation in backpacker circles. It's known as a place where people get robbed etc. so most travellers skip the city when in Honduras and stick with the Bay Islands and Copan.
It's not a perfect city (this article is a super interesting read) but I'd like to shine a positive light on the city as I had a great, albeit brief, time there.
I visited as I really wanted to watch a Honduras Premier League (football) match, and the one that best worked with my schedule was in Tegucigalpa (Teguc for short) on a Wednesday evening.
So I spent two nights in this 'dangerous' city. And believe it or not, nothing bad happened. Oh my Buddha!
It was hard not to build up a negative picture in my head before arriving. But, to answer 'Is Tegucigalpa safe?', I think the sign inside the rooms at La Ronda Hostel put it best (it's in the photo below).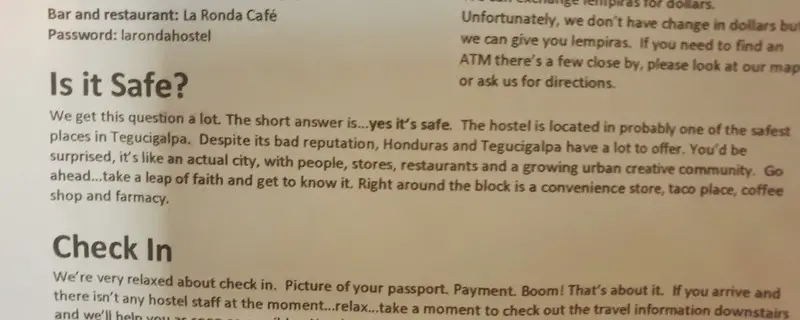 Note: La Ronda Hostel is epic! 10/10 recommend.
Other than football, I went to the National Identity Museum, the market, La Parque (a good place for running), and the walking street. The rest of the time was spent having a few beers and relaxing at La Ronda Hostel.
Here are five acts of kindness things that I experienced in Teguc!
1. We Were Offered A Free Ride To The Hostel
I travelled to Teguc with two people fellow backpackers I met in Lake Yojoa and we had the usual dilemma of figuring out how to get from the Teguc bus station to the hostel. We were struggling given our horrendous Spanish but out of nowhere a lovely lad who spoke English helped us.
We explained where we wanted to go and after explaining our options he decided to just drive us to the hostel to make it easy. He gave up his time and petrol money to help us out, and despite us wanting to give him some money, he refused!
2. Custom Feasts + Automatic Ordering
I decided to visit the Museum for National Identity and managed to get a tour with one of the most passionate people I've ever met. I was the only one on the tour in the beginning, and the (so annoyed I can't recall his name) guide was super chill and happy to customise the tour to suit what I did/didn't want to see and to keep it to 45-minues rather than the usual 90.
That was great and he was happy to answer all my questions so we could go deeper into a few things rather than skim over everything which I liked. Unluckily for me, we were joined by a couple of others after 15 minutes so the tour went to a more regular format so I stuck around, but left after 45 minutes as planned.
Was super grateful for those first 15 minutes, amazing.
4. People Inviting Us To The Football.
We did make it to the football in Teguc! I went with three others, and we were mostly sticking to ourselves, but people around us were happy to chat from time to time. At fulltime we got chatting for a while to a few guys who had taken their kids to the game. We exchanged details as they asked if we would like to go with them for the next game a few days later. I stayed in touch, but unfortunately left Teguc on Friday (the game was on Saturday night), but the invite was much appreciated.
In another example, Honduras isn't super safe is this news from the game on that Saturday night.
5. Hostel La Ronda
I'm saving the best for last. When we arrived at Hostel La Ronda we were still stoked about our ride to the hostel from the lad in #1. The kindness continued at the check-in process as the staff were happy to answer our seemingly endless questions with patience.
We appreciated the help a lot, and as the hostel doubles as a bar (a popular bar for expats and locals alike in the evening) we had a couple of beers while we continued to talk (beyond the incessant questions). We then asked if she wanted to join us for the football and we got a yes. She hadn't been to a match in years, so was super interested to see the atmosphere at games now. She continued her awesomeness and drove us to the match which meant she couldn't have more than a beer at the game, but that was the least of her worries.
---
So basically, what I'm saying is, don't be afraid to visit Teguc. As long as you're not a muppet there's no reason you can't enjoy the city for a few days. After all, there are risks everytime we travel.
My basic theory to stay safe when travelling in places like this?
Stick to the areas that people recommend…well more avoid the places people say not to go (ask people at your accommodation)
Don't get blind drunk (do as I say, not as I do), and avoid drugs
Don't be a dickhead.
Remain self-aware when out and about (this is a skill).
Follow these simple tips and you've minimised the vast majority of risks.