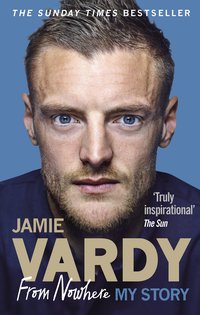 Date Finished: June 2018
Did I Like It? 7/10
The books Amazon Page
Jamie Vardy was part of the greatest fairytales in football history. His own journey for the previous fives years had been a fairytale in itself after suffering rejection and letting that agony of that lead him astray for a few years. His natural talent eventually pulled him back on track, coupled with a change in attitude (thanks wifey!) and you have a quality international footballer.
Click here to the index of sports autobiographies.
What I Highlighted:
1. Blue-And-White Stripes
I idolised David Hirst because he did exactly what I wanted to do –score goals for Sheffield Wednesday.
In short, Sheffield Wednesday had completely taken over my life.
I was willing to have a go at anything physical. I even went to a few boxing classes, not because I wanted to fight, but it was just another sport for me to try.
Although I was naturally right-footed, I was more than capable of using my left because I had always practised with both as a kid. I had an eye for goal and was blessed with speed which, together with my aggression, made up for the fact that I was the smallest player in the team at a touch under five-foot tall.
In fact, nothing seemed to matter any more as my boots gathered dust and all thoughts of becoming the next David Hirst disappeared from my mind.
2: 'He'd Better Be Good in Those Boots'
There was a chance to move up step by step, and I liked the sound of that.
I say a pitch, it was more like a field, but that was fine with me. I just wanted to kick a ball and get a smile back on my face. There certainly wasn't any bigger picture –the idea of trying to be a professional footballer wasn't in my head at all. My confidence was shot to bits after being released by Wednesday, and I didn't think about proving people wrong.
It was good to have my confidence back, at least –even if it was sometimes misplaced.
That was typical me –always trying to make up for my lack of size by getting stuck in.
Gary was willing to give me a chance, but I didn't get off to a great start when I missed the first day of preseason.
I've always had pace to burn and endurance to go with it, as I proved on my military bleep test when I was at school, so preseason was never something that worried me like it does some players.
I didn't want to run back and defend –I just wanted to score goals.
We'd all go to the bar after training, which Gary encouraged because it helped create that sense of togetherness.
3: 'Smash Him on the Ankle, He's Got a Tag on!'
I didn't like to do anything that I was supposed to do –there was just something about living life on the edge that did it for me.
While football was stop-start with the tag on, especially after the first three months, my social life had ground to a complete halt.
But I can now see that I was a bit wild and didn't really have any focus or direction. Everything had been channelled into trying to make it as a professional footballer for so long, and there was no contingency plan.
4: 'You'll Play for England'
I couldn't see there being much chance of me turning professional at the age of 24.
The bigger issue was convincing those managers, coaches and scouts to take a punt on me.
I'd always played with my mates, and all of a sudden I was around people I didn't know, which felt strange and uncomfortable.
No matter how much money they offered me, no matter what league they were in, no matter how big the opportunity, I'd never play for Sheffield United. I'm Wednesday through and through –always have been, always will be. It's in my blood, blue and white.
You soon stop dreaming of being the next David Hirst when you're working in a factory and approaching your mid-twenties.
Although I'd ring in sick for work at the factory if I had a bad hangover, I always reported for football –and in good time.
I'm lucky in that whatever I did off the field never seemed to affect my performance.
Ella's arrival gave me extra motivation on the pitch.
I think Neil actually liked the fact that I had a bit of devil in me.
Life was fun. The Inbetweeners and a few of the other lads from Sheffield would often get a minibus over to watch me play and I wasn't taking anything too seriously. Maybe that helped on the pitch because I just kept scoring.
I was kissing goodbye to about £ 20,000 a year and all the security that came with it, but that was a sacrifice I was willing to make to get some respite from work.
5: The Adopted Scouser
Once I'm over that white line I'm in a zone, thinking about football and nothing else. And football means enjoyment to me, not pressure or worry or stress.
Training every day –which I was doing for the first time in my life at the age of 24 –was making a difference, and it also helped that I wasn't knackered from a five-day week at the factory before I'd even kicked a ball.
I was still going out on the town drinking, the only difference being that I wouldn't do it the night before a match because the standard of football was a lot better than I'd experienced before.
But while I was angry and frustrated, I wasn't going to throw my toys out of the pram and allow it to affect how I played –that's not my style. I'm not selfish.
It was the third time I'd won promotion in four seasons, and by now I had a good idea of what was needed to build a winning team. Ability's important, but that alone will only take you so far. You need spirit and togetherness as well, and at Fleetwood we had all of that and more.
6: Skittle Vodka
It wasn't just the facilities, which were superb, but also the presentation that Steve Walsh, who was in charge of the club's recruitment, gave in one of the rooms upstairs.
It was a life-changing amount of money and I felt lucky to have it, but it wasn't the most important thing to me. I just wanted to play professional football.
Although I'm not shy and hadn't been fazed at all by moving to a new club when I signed for Halifax or Fleetwood, I didn't feel too sure of myself when I walked into the Leicester dressing room on the first day of preseason.
I was also worried about how I would measure up against players who'd been professional footballers all their lives.
Yes, I've been through dark periods and experienced moments of self-doubt, but I deal with them in my own way, not by baring my soul.
Everything was under so much more scrutiny than before, and with that came a level of expectation that was totally new to me.
As always, whenever I went out it was all or nothing, so leaving time was closing time.
I wasn't used to experiencing setbacks on the pitch, and I'd never had so much money in my life before, which allowed me to escape from things without any financial consequences.
Falling short like that was tough for me, and as I tried to get my head around everything that was going on I came to what I saw as the logical conclusion: This level is obviously not for me.
One of the mistakes I made was to take far too much notice of what was being said on social media.
I had in my mind that chat with Nigel, Walshy and Shakey, which was probably the best thing that happened to me, because I needed to know that they still believed in me. I was determined not to let them down.
7: The Proposal
Doing everything by the book has never been my style.
I didn't turn a deaf ear to everything Becky said, because I knew there was a degree of truth to it all.
Looking back now, that was the defining weekend in our relationship, and committing to Becky was the best decision I ever made.
8: Great Escape
You never forget your roots –they made me what I am and I wouldn't change anything about my backstory –but once I got to the top flight I was thinking only about being a Premier League player. That meant trying to behave like one, too.
I understand that because I'm not just representing myself, I'm also representing the club, so I have to say the right things.
It was a big learning curve for us all, but with stability at home I was able to deal with the disappointment in a way that wouldn't have been possible a couple of years earlier.
9: 'Players Need to Bring Their Passport but Will Not Require an England Suit'
In the end, I knew that I couldn't turn down the chance to represent my country, and I didn't want to, either.
The banter on the table while we were eating was unbelievable, everyone having a laugh and a joke, and that was something that took me by surprise.
After all the fuss at the beginning, I left the England camp desperately hoping I'd be invited back. Once you've had that chance and been involved, training for a week or two with the country's best players, you don't want to let it go.
You just have to respect that and get on with it. That's the nature of football. But it doesn't mean that you forget what someone did for you.
10: In the Eye of a Storm
I like a drink and enjoy being Jack the Lad.
I'm a father and a husband, a footballer in a multicultural dressing room, and 'racist' is the last word that I want to be associated with.
I thought it was like calling someone a Brit or an Aussie, and only now do I realise how ignorant that was on my part.
I just wanted to keep my head down and concentrate on my football, because I was now living in a goldfish bowl, with people watching my every move.
There's such innocence behind that comment, but I do hope that my children can grow up in an environment where every move they make isn't a headline.
For me, it's a spotlight that comes with the territory, and I certainly wouldn't change a thing about the way my football career has panned out.
11: 'May the Port be with You'
It didn't matter what obstacle was in front of us, we'd always carry on to the end. 'Foxes never quit' is the slogan above the tunnel at the King Power Stadium, and we followed that to the letter.
The big question for us was how we would react, because we were conscious of how things had unravelled for us at a similar stage the previous season.
I've always been proud of my number of assists, not just my goals.
I was playing with so much inner belief that I thought I'd score every time I crossed the white line.
There was hardly any time to think, but it's amazing what can go through your mind in a split second.
12: 'The Whole Team is Caesar'
Everyone was playing with supreme confidence and we had incredible team spirit –a winning combination at any level.
We were just going out and enjoying ourselves and, to put it bluntly, not giving a fuck who we were up against.
In any case, we'd never single a player out. We were in it together. We won as a team, and we lost as a team. That's what made us such a tight group.
Claudio was not entertaining title talk, but he wasn't tolerating second-rate performances either.
The player discussion may come as a surprise to some people, but it happened every game. We have the player discussions because we care about the team, not just our own individual performance, and a lot of the lads say their piece, especially the senior members such as Wes, Kasper, Huthy, Christian Fuchs, Drinky and me.
13: Champions!
I was going to be suspended for the visit of Swansea the following Sunday, and that made me feel like I'd let the lads down. I was missing at the critical stage of the season.
All I knew was that I was furious and I wouldn't have called him a cheat –that's the worst thing you can say to a referee.
I consciously hold a bit back on the training ground, making sure that I'm ready to go at it hammer and tongs when the game comes along.
Our house was shaking under the eruption of euphoria from a group of players who'd achieved the unthinkable. We'd done it! Never mind the greatest story ever told –this was the greatest feeling I'd ever known, being Premier League champions with a set of lads who'd do anything for one another.
Nearly all of us in that team had suffered rejection at one stage or another, quite a few had played lower league football and, let's be honest, clubs like Leicester aren't supposed to win the title.
It shows that anything's possible in life if you get the right group of people together.
It proves what you can achieve if you put your mind to it.
That was the moment when I realised we'd created memories that would last a lifetime, for them and for us, and for a city and a football club that would never be the same again.
EPILOGUE
Even fairytale endings have their limits.
I don't do half measures, on or off the pitch. It's all or nothing, and that's always been my approach to life.
I didn't give up on the dream during that period, but I wasn't chasing it either.
My ability was definitely always there, but the dedication wasn't, certainly not after Wednesday let me go and I lost my way.
That hunger, passion and desire that I take onto the pitch with me is a product of where I've come from, and I hope my experiences can inspire others to believe that rejection can be a start, not the end, of your journey.