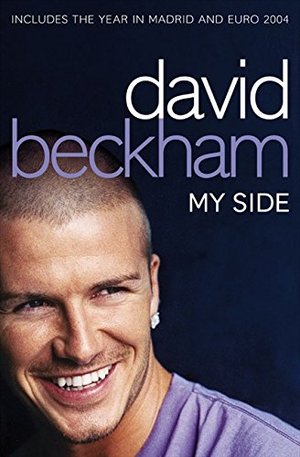 ISBN: 0233003266
Date Finished: February 2018
Did I Like It? 7/10
The books Amazon Page
My Side was published in 2004, one year after Beckham started playing for Real Madrid. He goes into EVERYTHING in the book, sometimes a little but too much, but there are some common themes throughout the book. You get to understand how much he loves football, how he met Posh Spice, and how some of the tough parts of his life influenced him. Drags on a bit much so gave it a 7/10. If you like Beckham, well worth a read.
Click here to the index of sports autobiographies.
What I Highlighted:
'I have always loved football. Of course I love my family and I have a wonderful life. But football is everything to me. To play for Real Madrid is a dream come true.'
Until you love your own children, you never realise quite how much your mum and dad loved you.
Our lives have come true: a family. Whatever lies ahead of us, I won't ever let them go.
1 Murdering the Flowerbeds
When I was a boy, I only ever felt really sure of myself when I was playing football. In fact I'd still say that about me now, although Victoria has given me confidence in myself in all sorts of other ways.
He warned me that I had to be prepared to get a bit roughed up now and again.
If it was football –or anything to do with football –I was there.
I loved the training anyway. Lived for it.
Dad worked with me on keeping the ball moving, releasing it quickly once it was under control. That still helps me keep out of scrapes as a professional player.
I was lucky that I had that drive from a really young age. Knowing what I wanted in the future, what would have been the point in messing about along the way?
2 The Man in the Brown Sierra
Of course, this was his dream as well as mine beginning to happen.
Obviously, none of the coaches or the other players spoke English but, if we were playing, we could make ourselves understood.
It wasn't: this is what you should do. But: what do you want to do?
Alex Ferguson knew all about me. He knew all about every single boy. He knew their parents, he knew their brothers and sisters. That seemed important to me, important for my future. It always felt like you were part of a family at United.
Neither she nor Dad were going to put pressure on me one way or the other.
This bloke knew me. I knew him. And I trusted him. So did my mum and dad.
3 Home from Home
Not letting my parents down meant everything to me.
Dad had tried to hammer his qualities into me: courage, commitment, energy, vision and the ability to inspire players around him.
Even before I signed at United I had the feeling I was joining a family.
Nobby was great with us and he was great with our parents as well. He knew mums and dads needed to be involved, not treated as if they were in the way.
Promises count for a lot in the life of a family.
But my feeling then, and even more so now, is that if you're given the chance to be with the best, you should take it.
The fact that a Manchester United team will always be wearing club blazers is part of having a professional attitude. That smartness said something about our respect for ourselves and for the club.
As I've got more experienced –and especially since I've been a captain –I've come to understand how important it is to communicate on the pitch.
The thing that has kept United and the players at the club driving on is the knowledge that if your standards slip, there's someone waiting to take your place.
If I was going to do it, then I should do it properly.
By the time I was ready for United's first team, I already got on well with the senior players.
It was the making of all of us, thanks to a boss who believed in us even before we believed in ourselves.
4 DB on the Tarmac
Nowadays young players are different: they're more confident in themselves.
But, whatever anyone else said, I wasn't worried about my size. I was determined it wouldn't hold me back, anyway.
For a young team, every game meant that we would find out more about ourselves, about what we could and couldn't do.
Every good team needs a strong leader.
But most of the time he'd be practising the simplest things.
Along with being very particular about what I like, I'm very careful about looking after what I've got.
I've got my own tastes and if I can indulge them I will, whatever other people might say.
It felt like I was giving him –and Mum –something back at longlast.
The thrill I get playing football, my love of the game: those things will always be there.
5 The One with the Legs
I looked across the room at Victoria. Stared, in fact: I couldn't take my eyes off her. And I could see Victoria was looking back at me.
Despite the missed opportunity, meeting her had only made me more certain about her.
When you meet The One, there's a lot of catching up to do.
I still try and send gifts like that now: it's a natural thing to me.
Of course, proving something's not true is a lot harder than proving it is.
6 Don't Cry for Me
Everybody gets involved when England are playing in the major tournaments and big games, but your passion for the team you support is there all the time.
What really knocked me sideways, though, was not having any real understanding of why the manager had made his decision.
I've never been that good at hiding my emotions. If I'm unhappy or down, people just know.
The right company: they'd say what they thought, not just what they thought I wanted to hear.
You just can't allow yourself to retaliate. I was provoked but, almost at the same moment I reacted, I knew I shouldn't have done.
That night was the worst of my life but I did have one miraculous thing to hang onto: I'd soon be with Victoria, who was pregnant with our first child.
7 Thanks for Standing By Me
Remembering France 98, one stands out in particular: the boss sticks by his players and backs them, even through the very worst of times.
For a few hours every day, at least, I could just concentrate on football and shut everything else out of my mind.
I didn't have the experience back then to realise that I was a relatively immature person who, as a player, was just burning up with the desire to win games.
Every time I went to take a corner, thousands of them stood up to cheer for me. They wanted me to know they were behind me. And that meant so much.
I've always felt in control when I was out on the pitch.
I've always found being behind the wheel more relaxing than tiring. It's time on my own, after all, and I don't get much of that.
She may not know all that much about football but she supports me and enjoys the sense of occasion and the excitement of the big games.
8 I Do
It's something you take on as part of being a professional: your life revolves around training and games.
I married her because I love everything about her: the looks –the legs –her personality, her sense of humour. She was the person I felt I knew and understood better than anybody I'd ever met. We were always meant for each other.
How happy I was at home somehow made me even happier to be playing football –for United and for England, too.
In front of the other lads, that was a huge insult :a huge blow to anyone's self-esteem, especially someone who didn't think he'd done anything to provoke it.
I don't think I could have lived my life better from a professional point of view: looking after myself, being careful about things like drinking and staying out late.
The unwillingness to settle for second best, that intensity and desire: they're in the make-up of the club.
There was a sense of togetherness amongst us that I don't think you could ever buy or recreate. It grew over time because we'd all been at United together for so long. We had complete faith in each other.
9 The Germans
There's always pressure on the England players and I understand that: I'm patriotic, too.
I think that pressure sometimes makes players scared to try things, makes them nervous about taking risks and really expressing themselves.
I think both Kevin and the gaffer understand how much it means to players to know their manager, whatever happens in private, is going to stick up for them when it comes to facing the media.
Once I'd established myself as an England player, I'd started to have ambitions –which, of course, I kept to myself –to make the next step, which would be the greatest honour of all. I've always believed that you should set yourself the highest of goals.
I wanted the England manager to know that I believed I could take on the job as captain.
Something like this hasn't really happened until you've shared it with your family. And then, still sat on the bed,
I'd seen how other people did it. I knew my own character, and that I had to find my own way.
Looking after your mates: it's an attitude I knew well enough from United. It's an attitude you'll see in every team that wins games and trophies.
I knew I wanted to play but I knew I had to do what was best for the team.
Sometimes, though, change happens not because anybody wants it to but because it has to.
10 My Foot in It
That's a great strength in any manager: to make players feel like he knows and understands and cares about them.
I'd say the boss is right in keeping a professional distance from his players most of the time.
As I've said, the boss made players feel special: when he told you he was pleased with something you did, in a match or in training, that counted for something.
The World Cup was all the motivation I needed, however fed up I was with the routine of working on all those machines.
And every player knows that during the month of that tournament your career, and your life, can change forever. Mine had in France, in the harsh glare of a floodlit evening in Saint-Etienne.
11 Beckham (pen)
I wasn't going to convince him that being fulfilled as a person could only ever be good for me as a player.
Psychologically, the secret is to concentrate on what you're doing from day to day.
And it wasn't just the players who were welcome. Our supporters were too and, credit to them, England fans made the effort in return. That spirit is what World Cups should be about.
I'd been fighting the nerves a little; natural enough when memories of four years ago kept flooding back into my mind.
We knew Nigeria could play, but I didn't have any doubts about us beating them. I was just worried we might not be able to beat the conditions.
Time on the phone to home was a break from football and a break from the tension.
The players' faces and their body language were just right: no fear, no distractions, no tension.
The first twenty minutes, especially, were fantastic. We played like we didn't have a care in the world, even in a winner-takes-all game at a major tournament.
A tiny doubt is sometimes all it takes to undermine players' confidence.
Don't make mistakes. Wait for the other lot to make theirs.
12 Bubble Beckham
Well, you can't choose who you fall in love with.
If it's your family's safety you want to protect, it's very hard to judge who the right person, or people, might be to turn to for advice.
I've never had a problem with people wanting to chat or to ask for an autograph.
I know what it's like to look up to people, to admire the achievements of someone who's good at what they do. I know what it's like because I always have done myself. And still do.
But Michael Jordan? I was like a little kid, couldn't think of what to say to the bloke.
You find out so much about the person you love and eventually marry in the first weeks and months after you meet her.
I walk into the house and, as soon as I'm with the boys, nothing else matters but them.
I appreciate that you can't turn the attention on and off like a tap. That's why, when it comes to myself, I wouldn't ever complain about the media putting me in the spotlight.
When you're talking about fame and what comes your way with that, you know you can't be in control all the time. If the tide turns, I can't expect to be able to stop that.
13 About Loyalty
You can't just wish that kind of depression away. You get your head down and get on with what you know you've got to do.
When you don't feel right, sometimes you need to work that bit harder, to train and play your way through it, and I was ready for that.
I had enough in the bank to make sure that my decisions didn't have to be about money.
I think I've grown up a bit. And I think, now, I respond better to encouragement than I do to being picked on.
14 United Born and Bred
For pressure games, it's helped us to have a passionate crowd close up to the pitch, cheering us on.
I never want a rest. I never want to miss a game. I can't help it: I just always want to play.
For a team to be successful, what you have to have is players who respect and trust each other.
You know you're in trouble when you start to think: well, maybe they're right. Even when you're the person it's happening to and you actually know that they're wrong.
'The only reason I'd ever leave United is if I could see they wanted me to. Well, at the moment it feels like they're not really bothered either way.'
It's the story of my life: you're on to the next adventure so quickly, there never seems time to take in the one you have just had.
It's always the same questions, when you find the time for yourself to ask them: 'Who are you? Where have you been? Where are you going?'
15 For Real: Hala Madrid!
16 Futbol, La Vida
These guys might be big stars but they act like any other footballers I've ever known: always ready to give somebody stick.
Whatever else I had on my mind, wherever I was and whoever I was with, I could just lose myself in a game.
The crowd was behind me. It seemed I was part of the team already. I felt I belonged.
17 It's Christmas
It sank in: a reminder that nobody can write their own script when it comes to football, however hard they try.
18 Let's Face It
When I strike the ball, I plant my standing foot down on the ground –a split second before –a lot harder than most other players. Almost always, that helps both my power and accuracy when it comes to passing and shooting. But it also means that, if there's something not right –if the turf's unstable or the pitch is uneven –I've got less margin for error.
My natural shape is like a distance runner's. Now, as I put the weight on in muscle, I was losing it elsewhere and my aerobic capacity –the ability to run and keep running –suffered as a result.
Stamina is a large part of what my game's all about and I seemed short of it for the first time in my career. Doubts about myself crept in and, because of that, the rest of what I was doing suffered too.
You can't ask for better from a team that they have the belief, the sense of togetherness and enough ability to make sure you can't ever write them off.
If it comes down to beating a goalkeeper from 12 yards, unless something strange happens, my technique is good enough to make me sure I'll score.
A penalty shootout is always tense but, like I say, believed I'd score. Believed the rest of the lads would, too, and that David James, sooner or later, would be the goalkeeper who guessed right and made the save. It
Victoria's always supported what I've been doing as a footballer.
My plan is to create something that combines coaching for youngsters from all sorts of backgrounds with some of the fun and the spectacle of a theme park. It's the most exciting thing I've ever been involved with in football aside from actually playing the game. And it's something I hope I'll still be doing long after I've finished pulling boots on myself. What I've had from football, it only seems right to pass a bit of it on.
And time with the family made me remember that there are things that are more important than football.
Contented with today and excited about tomorrow, I feel as happy right now as I ever have in nearly thirty years. There's a lot of football to be played yet and I'm ready.