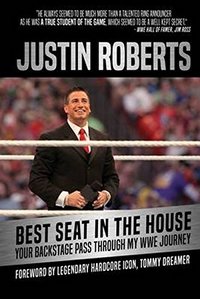 Date Finished: December 2017
My Rating: 8/10
The books Amazon Page
If you're a WWE fan, but don't recognise the name Justin Roberts, you'll know his voice. The ring announcer never sought the limelight in his dream job. He loved WWE since he was a child and you can learn about following your passion, bullying the workplace, and the importance of building relationships.
Click here to the index of sports autobiographies.
What I Highlighted:
This is my story, based on the facts, through my well-documented journey.
Chapter 1: What Would You Think If I Sang Out of Tune
The larger-than-life wrestlers, the colorful characters like Paul Bearer and Brother Love, the storylines that tied them all together—these shows were amazing.
Most importantly, after meeting a couple of them, I knew they were real
All I could ever think about seven days a week, 24 hours a day was wrestling.
I always, even up till now, felt like I was responsible for entertaining people, cheering them up, or helping them feel better.
I was never able to sit back, relax, and enjoy. I was always thinking ahead and trying to figure out how the whole machine operated.
I continued to call every week until I finally caught him. I think it's safe to say that this is where I began to learn that persistence pays off.
While I loved wrestling, maybe getting in the ring to wrestle wasn't the right fit for me.
I never looked at anyone as the holder of his or her position or even as any kind of authority. I just looked at everyone for his or her fun side.
Being friendly opened every door at that school, and that's where I learned that being friendly could open just as many doors in life.
Chapter 2: Put Your Mind to It, Go for It
I had gained a lot of confidence from performing with this group and learned a lot about professionalism that I could use even in the wrestling ring.
I had to grab their attention and then build credibility. How I knew this at 17, I'm not sure, but maybe I was just born to produce wrestling.
Chapter 3: There's a Path You Take and a Path Untaken
My theory was that in life we are allowed to use notes.
That was all I needed to hear to make me optimistic for an announcing future in Arizona.
Any show that I was on, I wanted to do everything I could to make sure the event would do as best as possible.
I was learning the business from an insider's perspective and learning how to do my job better.
I knew I was small time, but I still had the right to daydream just as I had as a kid about being part of a big show.
The power of socializing and being friendly. It takes you far, trust me.
I had no idea if a spot would ever open, but just knowing that someone at either WCW or WWF might watch my tape gave me an ounce of hope.
It's better to shoot for the stars and miss than to aim low and hit.
Chapter 4: Picture It, Brooklyn 2000
Now I realized that if you knew the right people, they could make it happen with a foot in the door and just a little basic training.
I wanted to announce everything I could. I asked a classmate of mine about announcing for sports.
I immediately started trying to figure out how to contact their headquarters.
I watched Tony Chimel ring announce and was so eager to get in the ring and give it a shot myself, but it just seemed so impossible. That ring was so close, yet so far away.
I called Steve Regal to pick his brain, and he thought that things were looking good for me.
As always, me being me, I couldn't just read the book, either. I wanted to contact Cappetta and offer to help him out in any way I could. I sent him an email, and he wrote back.
The rule in wrestling is that you always bring your gear, just in case.
He told me that I was going to make it. He didn't say that he thought I would, he assured me I would and told me he had never been wrong about anybody else.
Chapter 5: I Respect You, Booker Man
I tend to think outside the box and do things that other shows aren't doing, so my big idea was using one of the Tough Enough kids.
Chapter 6: I Will Never Work for WWF
By the time I graduated college, I had that piece of paper my parents wanted me to get and a ton of experience in the field that I wanted to work in.
All that work, every event I had announced, every tape that I mixed and sent out, everything had paid off. That was my proudest moment, just knowing that I was getting a tryout.
I loved the idea of having a job where my "work" was to be at wrestling shows.
That opportunity was all I could ask for, and now the future was in their hands. The dream was achieved, but the journey was just beginning.
Chapter 7: I'm Going to Disneyland
Unless they told me that there was no chance, I was going to stay on WWE for something. Anything.
No one taught me how to announce; I just did whatever felt right.
So I passed on a potentially great opportunity in the hopes that I would acquire something stable with WWE because that was what I truly wanted.
Chapter 8: Plan B, Watcha Gonna do?
I couldn't hide the fact that my passion was strictly WWE.
Chapter 9: Welcome to the Jungle
I was still sick, I was given a hard time by a bunch of the guys, and I just wanted to quit.
JBL, or Bradshaw, who has reputation for being a bully, did a wonderful job of keeping that reputation. He found any excuse possible to get the rest of the locker room to hate me. He would twist everything I did in order to stir the pot and turn people against me
I had wanted this my entire life, and now because a handful of evil people, I was going to walk away.
He told me the ribbing was wrong, and it should never have gotten to the point where I lost my passion.
I wasn't ready to leave and definitely wouldn't give up because of a few bullies.
I did as they asked to avoid any issues or heat from the company and headed over to the arena.
Working this arena with my dad now in my shoes as a fan was a very special moment for us.
Chapter 10: Full Tank of Gas, Half a Pack of Cigarettes, and a Bump in the Road
Chris called him to check in and see how he was doing. I will never forget that because I know that call helped my dad with his recovery.
There were a lot of good guys in the crew, but the other guys made this a miserable experience.
Chapter 11: You Got It, Dude
Time was really the only thing that could help, and it did. That and I had to come back sooner than expected which scared the hell out of me.
I was very comfortable working the RAW tours. I was scared for my life to work SmackDown tours, however, because the nature of that particular locker room was brutal on new guys, especially a puny ring announcer who didn't have many allies.
The people in power seemed to have no sympathy and to even enjoy seeing people in bad or embarrassing situations.
I worked hard every day, every week, and this was how I was repaid. Not only was I not working the biggest show of the year (after I was promised I had the spot), but I also wasn't even going to be there.
Getting into the groove really helped with my confidence. I was slowly learning how to master the art of ring announcing.
Chapter 12: E-C-Dub, E-C-Dub
I just wished I had more allies there. Either way, it was time to start over again.
His advice was that I got to where I was because I was a professional. Tonight, I needed to be professional.
He asked if I knew everything there was to know about the business. I did not.
After the show, ECW icon Sandman shook my hand and told me I earned his respect that night.
Vince isn't big on helping a business that he did not create to thrive.
The lack of communication would keep all of us at ringside, wondering.
Now, however, many years later, I can say that speaking in front of 80,000 is easier than 20,000 or 5,000 and without a doubt, much, much easier than speaking in front of 15 people.
If there's someone who I think is cool, I'll immediately start figuring out how I can get in touch with them.
Chris had been very good to my family, and I didn't know what to say or do.
It hurt me each time I had to leave her side to fly out for work because I didn't know how much time she had.
The company frowned upon talent even asking for time off, so it was assumed that if we did, we could easily be replaced.
Chapter 13: Ruthless Aggression
We made it fun, though, and got through it year after year, game after game.
I've always hated bullies and was glad karma, or Joey Styles, had finally come back to stand up for himself.
Chapter 14: I Love It When a Plan Comes Together
I had worked my way up the ladder and truly, truly hoped I would be able to be the permanent RAW ring announcer since that was the main show.
I worked hard nonstop, and now I would be announcing the flagship show.
I respected but didn't want to be Howard or any other established announcer. I wanted to create my own style.
I learned that the best way to handle those situations was to apologize and take the heat, pretending I was dumb.
My tone was leading the crowd toward a certain direction. They were going to go there with or without me, but I wanted to lead them there.
Similar to Mike, I like to do things now, as an adult, that were just not possible as a kid.
Once later came, the world knew, and anyone who knew me was definitely happy for me! Follow your dreams…
Delayed flights, connections, cancellations, all of the fun that comes with just the travel alone can get to you.
Most of what I did was guessing what my bosses would want.
Not everyone would put their heart into it and think about each announcement, but anyone could say names.
Chapter 15: Now Yous Can't Leave
Of course, when you work there, you always want his approval, and it doesn't happen often.
I lived for WWE, and despite some of the mental abuse I was taking, I was the first to go in the room and talk on camera.
Chapter 16: I'm Right on Top of That, Rose
He mentioned that I was proactive and that they liked that.
At any company that I worked for, I loved doing anything I could to help them grow and be the very best possible. I wanted to earn my stay there and help in any way I could.
I can't stress enough how uncomfortable I was at every event because of the lack of communication.
The show went well, and I was having fun. You could hear the enthusiasm in my voice.
Since he did not believe in showing weakness, the soldiers working for him couldn't either.
The problem is, we were on the road every week and did not have time to be sick; we did not have time to let our bodies break down from the constant travel and shows.
Chapter 17: The Best There Is, The Best There Was
I have not and will never claim to be the best ring announcer; I am just happy to be one of the options to choose from in the history of WWE.
Chapter 18: Are You Experienced?
Having the ability to use the influence of my job to help people was amazing.
I was a fan and saw the show as a fan. I knew when the crowd was getting a quality show versus a poorly thought-out show production
If there's one thing I knew better than anything else, it's the wrestling business.
He always wanted to try new things and pushed me personally to become better on every show.
Unfortunately, no matter how talented and intelligent guys are in the wrestling business, it's the "Yes Men" that are kept around.
I wish I could have just shown up, announced, and kept my mouth shut. Unfortunately, I cared way too much about the product.
Chapter 19: Did I Do That?
Chapter 20: I'm Not a Doctor, But…
Chapter 21: Turn the Page
Once they told me that the offered rate is the very best they have, I'd either ask for the discount code or even the rate I received the last time I stayed there. Once those rates presented themselves as better than the initial "best rate," I would have them just where I wanted them. "But I thought you said that was the best possible rate?" I would innocently ask. From there, we would make sure that the very best possible rate was negotiated.
I loved those kinds of challenges. They were fun for me and rewarding for all of us who could benefit.
I never sit back and wait on anyone. I stay on top of everything, step by step. It might be an annoying personality quirk, but when you're persistent, you get things done.
My motto has always been to not wait on anybody, to go after what I need, and to be polite.
I like when companies are fair, and I hate when anyone tries to take advantage of their customers.
Chapter 22: Sharp Dressed Man
You'll notice that most of what's written is about work, and I haven't talked much about my personal life outside of work. That's because I didn't have one.
Just like anything else in my life, if I were interested in someone, I would go all out to try.
I'm proud to say, though, in all the years flying numerous times a week, I never slept in or missed a flight due to my own actions.
He ordered me to go out there and do a mediocre job. I hated it.
My love for the company continued to diminish. I pondered possible ways I could get out of my contract.
Chapter 23: Standing Tall, on the Wings of My Dreams
I overanalyzed every announcement. Every little word I spoke meant something. Everything I did had a reason. It was ring psychology at its finest, and I was always touched when fans picked out subtleties in my work and mentioned them on social media.
Chapter 24: What a Maneuver
I loved doing my job, and I can't say that enough. The actual job and the interaction with the fans was the best.
Each week I went to the shows and tried to do what was best for the fans because I, myself, was a fan, and that's how I saw the shows. It was never about me; I knew my role was to make stars sound as big as possible before their matches.
I was never comfortable at my job. Ever. Every week from the beginning felt like it could have been the last.
Chapter 25: Favorite Event Becomes Life-Changing Event
It was so easy to help someone, and in this case, a whole group, have a good night.
I always tried to do something special without bringing people backstage, except for a handful of times.
I knew what I was doing meant nothing to the company, but what I was doing for Connor meant the world to him. I did anything I could to help.
Chapter 26: The World Don't Move to the Beat of Just One Drum
The power of that microphone and truly knowing how to use it was such a thrill.
The problem was that, once again, I was made to be invisible by the people I worked for.
I got to know wrestlers primarily as how they behave at work, and it's always really interesting when you see them in different roles.
It wasn't fun anymore. I didn't get those butterflies or any of the excitement I used to feel.
Work dominated my life, and I sacrificed having freedom to work the job I had dreamed of.
Chapter 27: Nobody Leaves This Place Without Singing the Blues
Your job is to hype up the crowd, but it isn't your job to hype up the crowd, and you aren't allowed to because they only have so much hype.
I was ready to be done for a couple of years now. I just couldn't seem to jump out of the roller coaster on my own. I needed a nudge.
Chapter 28: You Take the Good, You Take the Bad
Chapter 29: The Final Chapter
If you get the feeling that I cared too much about my job, you are probably right.
I only wanted to write this if I could write the truth.
My advice based on my experience at WWE: Be friendly. Be polite. Be persistent, but not so much that you become a pest. Follow up with people.
When you get close to reaching your goal, stay level-headed. Be flexible, but stay determined.
The only way to get something great is to take a chance.
I advise all of you to do your job to the very best of your abilities so that you can excel in your company.
We always talked about feeling like we were part of a family, and I couldn't agree more.
Bullies are a part of life, and we must overcome them not only as kids, but as adults as well.
With the support and encouragement of my family, I was able to live out my dream I had imagined as a kid.
No story has ups without any downs, and the bad always comes with the good.