When looking at a new city on a map, parks draw my attention and I always try and visit a couple.
This park, Shivaji Park in the heart of Mumbai, was different to other parks.
You don't go there to chill out during your lunch break, take the dogs to run around, or have a picnic with friends.
Shivaji Park is a second home for thousands of passionate Indian cricket players young and old. It's known as a breeding ground of cricket talent. A no. of youngsters who grew up playing here going on to become rock stars in India as part of the Indian cricket team.
My favorite nickname for Shivaji Park? The biggest nursery of Indian cricket. At 112,937 square metres, it's the largest park in Mumbai, making it a pretty large nursery.
I listened to Sachin Tendulkar's Autobiography, Playing It My Way, on Audible in 2017. Shivaji Park is where he started building his legacy. You'd well be drunk if you took a drink of cold Indian pale ale every time he mentioned Shivaji Park.
My main goal of heading to the park was to see some Mallakhamb action. That fell through so I spent a few hours watching, observing, and avoiding stray cricket balls.
The following are a few things I noticed in my few hours at Shivaji.
Everyone Knows Where To Be & When***
With hundreds of cricketers confined to an area that OSH back home would cry at for fear of safety, there were no arguments on what everyone was doing. The supply and demand of facilities always seemed at equilibrium. When some left, more arrived. There must be a schedule somewhere.
They were all well drilled, no slacking off. The only people that were standing around were those waiting for their turn to run in to bowl. They are there for the love of the game.
On the outside, pick up games were going on. Three matches, lined up side by side, far too close for my comfort, but the games ran without any obvious hiccups.
RELATED POST: VISITING BLADES OF GLORY CRICKET MUSEUM IN PUNE
Cricket Is The Center Of Everything
Cricket is the center of everything here with other sports taking what space is left at Shivaji Park. If you took a drone up above the field, the birds eye view would be a good representation of how big different sports are in India.
RELATED POST: THE MOST POPULAR SPORTS IN INDIA
On the outskirts of the park you'll find soccer edging into the frame along with several other sports who exist, in smaller numbers.
They're The Perfect Painters Cricketers
What's the first image in your mind when you think of a park?
For many of you, an image of green grass and trees springs to mind.
I'd seen a couple of parks in India already. They weren't green. At Shivaji Park I was expecting a nice green park, worn out given the amount of activity happening, but green.
I didn't think it'd resemble the clay courts of Roland Garros, not Wankhede stadium down the road.
The dust was real. My hand washed shorts soon had dust splotches all over them. I was left wondering. The cricket whites, granted from a distance, all looked freshly white. I may be a human dust collector but I seemed to be in the presence of hundreds of perfect painters cricketers.
There were patches of green but wow, diving to stop balls would cause:
a dust cloud
dirt stained clothes
Poor Mum and Dad must be constantly washing cricket gear.
Playing on Matchday Must Be A Walk In The Park
I like how this figure of speech works.
With the dust pit of a ground, wicked bounces off the pitch from bowlers and off the bat are aplenty. On match day I'd assume the majority of the grounds are in better condition (big assumption).
As long as they stay alert, there must be few unexpected bounces in a match. Or on the other hand, maybe they switch off and make mistakes as they expect an easy time of it. Pesky mental games.
Everything Other Than Cricket Comes Second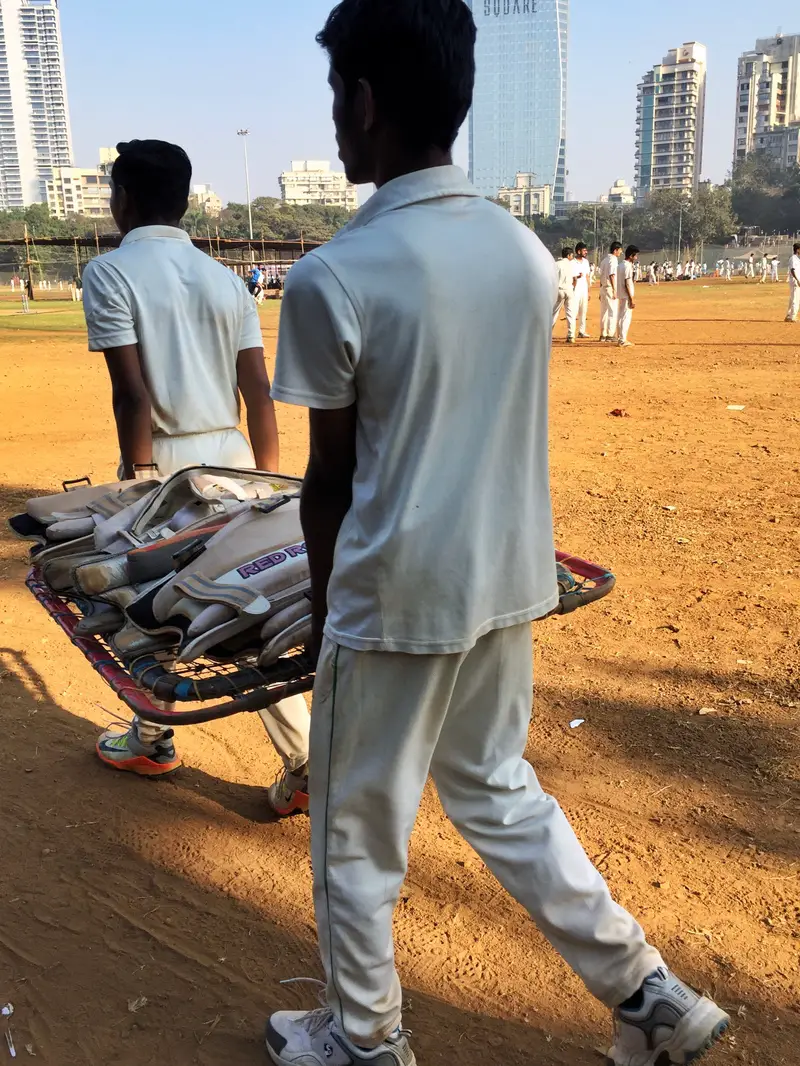 OSH would be spewing at what was going on at Shivaji Park. For different reasons this time.
Non-sporting employees have a strong case to say they're working in unsafe working conditions at Shivaji Park.
I'd walked halfway around the park and saw a few workers relaying pipes across the field pipes. No games of cricket were stopping for them to finish the job.
A couple times balls bounced into the workers, not super hard, but definitely enough to leave a dull thudding pain. If that happened back home, I'd expect an earful from the victim. These workers hardly reacted a small glimpse to make sure it was indeed a barely red cricket ball that'd hit them. A chirpy sorry would come soon enough as the ball is collected by one of the aspiring international cricketers.
Once again, cricket is the center of the universe.
At The End Of The Day, Cricket Is Just A Game
At Shivaji Park, cricket is the center of everything.
Yet in the grand scheme of things, the rest of the city needs to run like anywhere else in the world. Cricket isn't played by everyone 24/7.
One block away, you reach the beach where people are hanging out, taking an afternoon walk, having their photos taken.
Two blocks in the other direction I find a street market with stalls opening up. I choose the one selling beetroot juice made from scratch right in front of you.
You'd never know an important part of the success of Indian cricket is so close by. At the end of the world, it's just a game.
---
If you practice and/or play at Shivaji Park and happened to read this, respect. You guys and girls are tough.
I was exhausted walking around the field 1.5 times, granted I was wearing a black t-shirt, of all colours. The temperatures were in the 30's and you kept charging in. I didn't see a much water supply but the bowlers never gave a second thought about self-preservation. No wonder you're a dominant force in the cricketing world.
The presence of coaches was hardly visible, let alone overbearing parents. A great system all around.
On a scale of 1 to 10, I'd rate Shivaji Park a 10. Babysitter extraordinaire.