I spent 57 days in Bundaberg working on various farms (read: digging potatoes). When I wasn't working I was looking to do experience all of the things to do in Bundaberg (for free prefrebly).
Everyone knows about the ginger beer and rum roots in Bundaberg, but there are some cool parks and while many of attractions aren't jaw breaking, you can easily spend two to three days sightseeing in Bundaberg.
And of course, the day trips from Bundaberg are world class making the town a great place to base yourself.
---
15 Interesting Things To Do In Bundaberg
1. Have Fun At The Bundaberg Ginger Beer Factory Tour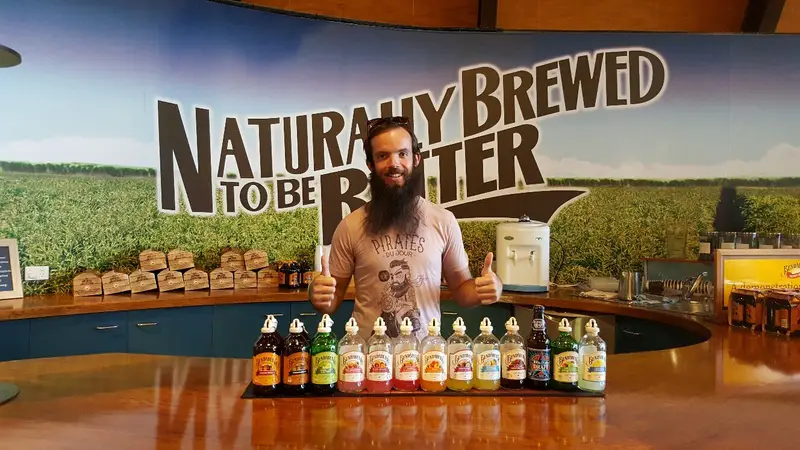 Bundaberg Ginger Beer is sold to 40 odd countries around the world making the bottle familiar to millions. While you can't go into the factory itself (safety regulations), there's a site next door housed in a large barrel shaped building.
There's plenty of merchandise for sale (and cheap bottles of Bundaberg), but I was there to check out the tour.
The tour is fun! It's interactive and comes with a audio tour which is great for those who prefer not to read. You'll learn how they make ginger beer and then you can test your skills on an interactive screen. There's an aroma section to test how clever your nose is and a cool 15 minute holographic screening.
Once the screening is over, one of the lovely staff (the two I interacted with, Reegan and Katerina, were awesome fun) will provide a sample of the dozen or so different flavours of Bundaberg drinks you can try.
More info on prices on the Bundaberg Ginger Beer website.
2. Take A Quick Stroll At Sharon Gorge Nature Reserve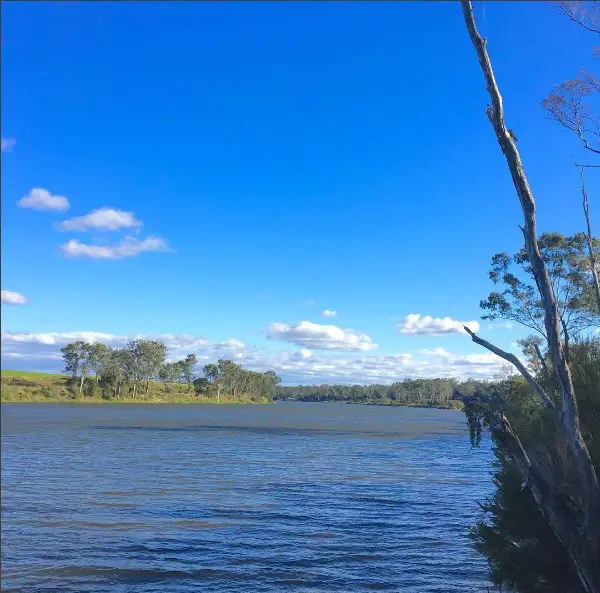 The Sharon Gorge is better known as a spot for freedom campers looking for (free) cheap accommodation in Bundaberg. It does sport a hidden jungle walk though. Stretching 1km through the bush and finishing up on the edge of the Burnett River. The walk is easy and while it isn't a must do Bundaberg attraction, pop into the gorge if you decide to see the Mystery Craters.
3. Enjoy A Slice Of Kakadu At Baldwin Swamp Environment Park
Bundaberg's 'slice of Kakadu' is a relaxing area with a few boardwalks and paths navigating you through the wetlands. Given its proximity to town, it's great to go and simply hangout for a couple hours. Ideally with a picnic.
4. Visit The Beaches Near Bundaberg
Bundaberg is roughly 10km inland from the ocean. While you can't walk from your Bundaberg accommodation to the beach (easily), you have plenty of beaches to choose from less than a 20 minute drive away. Starting from the north is Mon Repos a popular spot in turtle season. Heading south you'll pass through the Bargara beaches and finishing up to the south is Elliot Heads.
I jumped on the bus to Bargara and checked out Kelly's beach, Bargara beach and Neilson's beach, all awesome for their own reasons.
For more information about the beaches near Bundaberg check out this page.
5. Take A Walk Along The Burnett River
Bundaberg is divided by the Burnett River, with North Bundarberg separated from south, east, west and central Bundaberg. River access for fishing is possible on both sides (don't swim in the river).
I liked the walkway along the southern side of the river. You can go for a good kilometer or so, with benches scattered along the path. Beautiful at sunset.
6. Visit The Art Gallery
The Art Gallery was the first on the list of things to do in Bundaberg I checked off. It's free to enter and the exhibitions I saw were interesting. When I visited Amsterdam, I didn't check out Anne Frank's house (long queues) so was stoked when a Anne Frank exhibition was opening up at the Gallery.
There are three exhibition rooms, it's definitely one of the best free things to do in Bundaberg.
Jub's Pro Tip: check out their Facebook page. If they have a new exhibition opening up they probably have an opening party where you can pop along, check out the exhibition, drink some wine, meet some locals and overall have a great evening out.
7. Wander The Botanical Gardens
The Bundaberg Botanical Gardens are epic! They're one of the underrated places to visit in Bundaberg (maybe I'm over optimistic but I loved coming here). Whether you're a garden person or not they're worth checking out. There's a Japanese Garden and Chinese Garden which are okay, but I had the most fun walking around the lake.
There are plenty of birds to keep you entertained (read: PELICANS!) and keep an eye out for surface movement on the lake, you might just spot yourself a turtle.
With the art gallery, Baldwin Swamp, beaches and the botanical gardens the list of free things to do in Bundaberg will keep you busy for a couple days at least. No one should be asking themselves what to do in Bundaberg regardless of your budget.
There are a couple other Bundaberg attractions you can checkout while at the Botanical Gardens too:
The Sugarmead Fairy House: Tours leave most days from the house at 11am, $6.
I got lazy and didn't visit the both the fairy house or aviation museum!
8. Seek The Highest Point In Bundaberg: The Hummock
If I was a Pokemon, you'd definitely capture me near the mountains, not water. Unfortunately the Bundaberg region is flat with the Hummock claiming the title of highest elevation in Bundaberg.
It's not easy to get public transport here, you'll have to walk at least a few kilometres but with minimal incline anyone can reach the top and take in the 360 degree views of the area. You can spot different vegetables growing, get a glimpse of the city and you can see the ocean a few kilometres away.
Apparently it's a very romantic spot at sunset!
9. Taste The Best Rum In The World At The Bundaberg Rum Distillery
You're likely familiar with Bundaberg Rum, with the memorable polar bear logo. I kept delaying visiting the Bundaberg Distillery but visited one of the most iconic tourist attractions in Bundaberg on my last day.
Like the Bundy Barrel you aren't able to go into the factory yourself, but there's a tour which you can go through on yourself or with a guide (I was too late for a guided tour).
The Ginger Beer Tour was more fun in my opinion, maybe it was the lack of an audio tour or more likely knowing you'll have rum tastings waiting for you at the end of the tour. The tour talks mainly about the history of Bundaberg Rum. I'll give them credit, the story behind how they kept the business running is impressive. They could have told the story better though.
With your entry fee you get two tastings which is cool. Little did I know you get to try some of the premium rum they make! The two I tried were both epic, including the World's Best Rum 2015.
Book your tickets online here on the Bundy Rum website for a 5% discount.
10. Enjoy Sugarcane Juice Straight From The Source
Bundaberg is a sugarcane growing machine. In the months leading up to the harvest which starts in late-June, you should grab some sugarcane and drink the juice straight from the source. If you've not had sugarcane juice, it's sweet as you would expect. Getting into the sugarcane isn't easy though, so satisfactory when you do though.
11. Have Fun At River Feast
Bundaberg Riverfeast didn't register on my radar until the last couple of weeks but I investigated and it's obviously one of the top things to do in Bundaberg at night (there isn't much to do!) To see a couple hundred people enjoying beers and food at the festival alongside the river surprised me. It seemed to advertise itself, little did us backpackers know about it and we were 1km down the road.
I recall seeing food from Germany, Thailand, Hungary and The Netherlands and more I've forgotten. There was definitely a handful of others and all reasonably priced from 5-10$. With beers around $7 each, its good value with live music throughout the evening.
Open: Fridays 4-10pm (website)
12. Purchase Fruit And Veg Roadside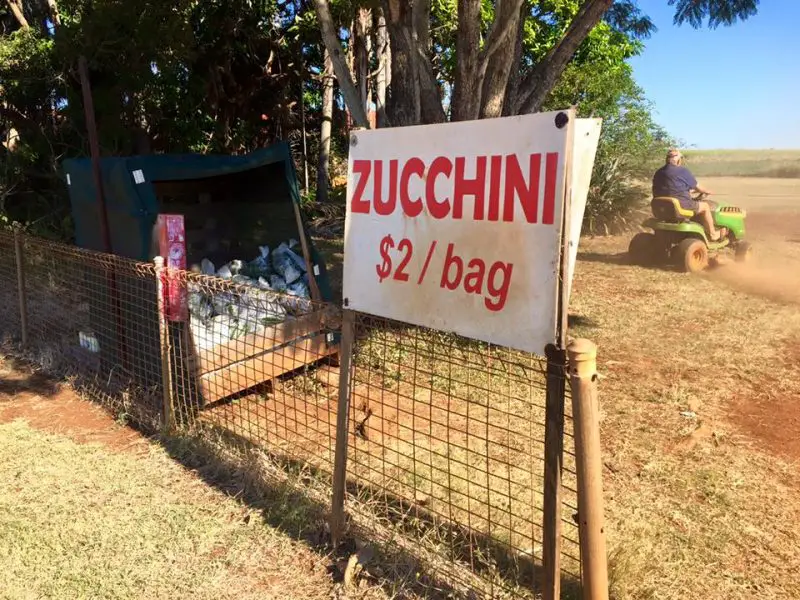 In a time warp back to what I would imagine it was like 20 years ago all over the country, Bundaberg employs the honesty box system. Given so many people are growing fruit and veg, many of them set up road side stalls where you can get a bag of fruit for a couple bucks. Great concept!
Although one farmer accused me of stealing the money from his zucchini stall (above). Even taking a photo of me before I realised why he was doing so.
13. Get Your Thinking Cap On At Mystery Craters
This is a hit or miss site depending on your mindset. The site itself isn't spectacular but you really need to get into the story behind why the craters became a tourist site. The craters were randomly discovered in 1971 and no one has been able to explain how they turned up.
The Mystery Craters site is up for sale (June 2016), which may be why I didn't feel that enthusiastic about it after staying there for 90 minutes. Have the current owners let it run down? Whoever takes over the site can definitely bring a magical aura to the story back to the spot and make it one of the more unusual things to see in Bundaberg.
Cost of entry: $10 adults
RELATED POST: MY MYSTERY CRATERS EXPERIENCE
14. Pop Into The Visitor Center
The Bundaberg visitor center is on the way into 'downtown' and has friendly staff who can help you with any questions you have in addition to helping you with any bookings required. You can also pick up some brochures. Take a scan through the booklets for any vouchers you can use during your stay.
15. The Zoo
This was one of the more bizarre places to go in Bundaberg. It's not exactly a zoo as advertused but worth a mention. It doesn't cost and there's only a handful of animals, dingoes, monkeys, birds and an emu to see. Check it out while your doing the river walk.
I'm still not sure what to think of this. It's not exactly ethical…I don't know why it's there!
Bonus: Mon Repos Conversation Park (And To See Sea Turtles Nesting/Hatching)
I didn't go to do this as I wasn't in Bundaberg in from November to March when the main event occurs. During November, december, and January, sea turtles come to the beach to nest with the hatchings happening from January to March. You aren't allowed on the beach here for obvious times during this period, but you can book a tour to get a glimpse of nature at its finest. Tour spots are limited!
The conservation park is open year round.
---
Things To Do Near Bundaberg
As the Southern Gateway to the Great Barrier Reef, there are some epic day trips with the days trips to Lady Elliot Island and Lady Musgrave Island day popular.
---
What I Didn't Like About Bundaberg
Overall Bundaberg would be an ideal spot to spend 2-3 days. The staff members at retail outlets and tourist stops were always nice, but it was hard to know if they were genuine or not.
On the street, locals weren't exactly welcoming. This may seem harsh, and may simply be a cultural thing, but with so many backpackers and tourists coming to town, you'd think the locals would welcome them with open arms.
I wasn't the only one who said this, many others mentioned this that I interacted with agreed it felt like being in Eastern Europe with people very closed off. Given most backpackers don't expect to leave Australia with extra money saved up, a little bit of effort could see the money they make in Bundaberg spent in Bundaberg rather than other places on the east coast.
---
How To Get Around Bundaberg
While Bundaberg is walkable and public transit is available, you'll be much better off with a car.
Bundaberg public transport is reasonably priced and you can get most places with buses passing through each route at least once an hour. Except on Sundays! In a perfect world, there would be more buses available on Sundays and they'd go until later in the evening. You can see the timetables here.
Hitching was reasonably easy in Bundaberg to get short distances such as to the craters, Sharon Gorge and Bargara. All those who picked me up seemed really nice. Which of course contradicts what I say above. That's the deal with those who pick up hitch hikers though, they're on the nicer end of the scale. Simply wanting some company or happy to help strangers out.
Rental cars are another option. Depending on how many of you there are, they can be really affordable. I joined some friends for a weekend trip to Hervey Bay and we rented a cheap car from Bundaberg Car Hire. No complaints whatsoever.
---
Where To Go After Bundaberg?
You have lots of options, from heading north to Rockhampton via 1770 or south towards Brisbane with Hervey Bay the gateway to Fraser Island before you hit the Sunshine Coast and eventually Noosa.
---
Bundaberg is a decent place to live, but is lacking that something to make it a thriving tourist destination you talk about long after you visit. There's no shortage of things to do in Queensland, let alone Australia. If your trip is a few months long, stick it on the list. If you're looking for a weekend get away, put Bundaberg on the list of options. Ultimately, it's a nice spot but don't feel bad if you have to skip past.