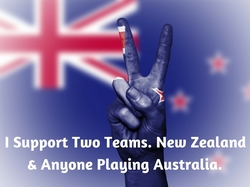 I support two Teams. New Zealand and anyone playing Australia.
The above is a common saying you'll see and hear around New Zealand. Yet I support an Australian team.
I'll get into this shortly (including my new tradition), but here's some background on the NZ/Australian rivalry.
While we love to hate Australia, we don't really hate Australia. Unless sports are involved. Then it's all on.
Any sporting contest between New Zealand and Australia is fierce. It doesn't matter if it's netball,
rugby, hockey or tiddlywinks. Yet, there is one incident that will never be forgotten by us kiwis.
It's from 1981, the cricket incident below is the biggest controversy in sports between New Zealand and Aussie that's regular referenced to this day. There's a Wikipedia page about the whole thing if you want to know more.
We'll never stoop as low as this (I hope).
Despite all this, I support an Australian team.
The Canterbury-Bankstown Bulldogs. A Sydney based team in the NRL. The NRL consists of 15 Aussie based teams and a kiwi team.
A lot of people are confused when I mention this.
Why Support An Australian Team?
I'm not even a dog person (cats for life), so supporting the Aussie based Bulldogs makes even less sense.
It all began in 1994. Age 5. My memory isn't to crash hot. but I remember being at Dad's house. The house was small but the property was massive, perfect for running around a lot. One evening I remember watching a game of rugby league (my first?), and I liked the blue (favourite colour) team. Somehow that was enough to convince me to support the Bulldogs.
I always supported the Bulldogs from that day on.
Why Not Support The New Zealand Warriors?
I do. But they're not my number one team.
The Warriors entered the competition in 1996 as the Auckland Warriors. Another weird kiwi thing to know is we like to think of Auckland as not really being a part of New Zealand (it's a joke). So as someone from Waikanae in the greater Wellington region even my eight year old self was going to stay loyal to the Bulldogs.
If they were the Wellington Warriors, I may have jumped ship.
Alas, they weren't and when they rebranded (great idea by management in my opinion) as the New Zealand Warriors in 2001 I was passionate enough about the Canterbury-Bulldogs. I've never considered switching allegience.
It took a while for Rugby League to become my number one sport to follow too. Sometime around the start of Uni in 2007. Somehow this also played a role in not making the switch to the Warriors. I think.
I support the Bulldogs & the Warriors, unless they're playing the Bulldogs. Though I don't go out of my way to watch them.
My Favourite Memories From Supporting The Bulldogs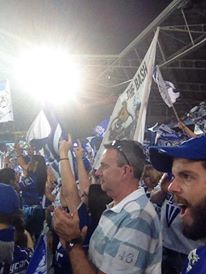 Buying my Bulldogs jersey. That was pretty awesome on my first trip overseas. I was playing poker at the time, so even while at university the $170 price tag wasn't too scary (is now).

Attending them play in the NRL Grand Final, twice. In 2012, I had Grand Final tickets in July and was stoked that I'd see them in the Grand Final a few months later.

In 2014, I didn't buy my tickets until I knew we were in the Grand Final against the Rabbitohs. I went to the Grand Final on my own and had a blast with the other Bulldogs supporters. It's better when you're sitting with friends though for sure.

We may have lost both Grand Finals, but the atmosphere is electric. Some people live their lives without seeing their team make the final, let alone the Grand Final! I also saw the 2011 final when the Warriors made it, another loss.

Watching the Dogs beat the Melbourne Storm in Melbourne. The Storm have been competition front runners for a long time now. They played brilliantly.

Watching games on TV in random places around the world. There's been the 3am games in dorm rooms where I try an minimise the light and contain excitement or anger (hostel etiquette). Running around small towns with minimal WiFi trying to find a cafe that has a strong enough connection to games and the odd time when a quality sports bar is showing the game. There have unfortuantely been occassions where I've been in transit and simply not been able to tune in.

In my third year of Uni, I took a sports management class that required us to study a issue within sport and write about the issue from a management perspective. The Canterbury-Bulldogs were my first thought of course. I went ahead and wrote about the fall out in and around the 2005 season after winning the Premeirship in 2004. I can't recall what I wrote but pretty sure I got a B, will take it. B for Bulldogs?

Eating a kebab in Bankstown the day before the grand final. The street was electric, there was pretty much a parafe the day before th grand final. So good!
My New Bulldogs Winning Tradition
I drafted this post a month or so ago and decided to make a new tradition. Every time the Canterbury Bankstown Bulldogs win a match, I'll eat a falafel kebab in the next 24 hours.
In the past month I've had a bit of a dry spell, with the only falafel action on June 12th with a 16-2 victory over the Dragons.
---
So yea, while I do support an Australian team, I have plenty of reasons and as long as they don't suddenly become the Australian Bulldogs, there's no reason I won't be a life long supporter. Who knows, maybe like Gary Vaynerchuk is motivated to buy the New York Jets I could put buying the Canterbury-Bankstown Bulldogs on my bucket list.