Are you looking sports gifts for that person who is crazy about all things sport? This no longer has to be a tough pursuit. There are so many options, and this list has 80 ideas of the best gift for sports fans you can buy.
We're talking sports clothing, travel gear, electronics, jewelry, stuff for home and more to make your sports-loving friends day.
---
Clear Stadium Bag
Passing through stadium security is never a fun experience when you're heading to the game with aggressive staff rummaging through your bag (if you're allowed to take non-clear bags in). Make security a breeze for the sports fan in your life with see thourgh stadium bag that's big enough to fit all game day essentials. Beyond the stadium, it can also be used for schools, offices, and work places that require clear bags. Check prices.
---
Textured Football Luggage Tags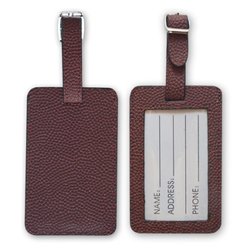 These luggage tags prove their worth with the headaches they save when all the black bags are on the airport carousel at the same time. These tags provide a subtle hint into what your passion is that true football fans will notice. With a durable buckle, your details on the card aren't going to fall out of the standard clear sleeve. These are perfect for the next big sports trip.
Also available in tennis, softball, soccer, basketball, and baseball styles. Shop now
---
Home Plate Door Mat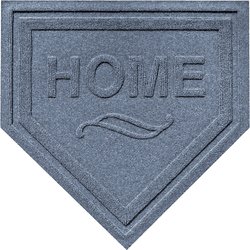 If you've got a baseball crazy person to shop for, this home plate door mat is a home run winner. They're available in several colours, but none of them fall on the cheesey side so the person you're gifting too will not only love it, but actually use it. Makes for a great conversation piece too.
---
2 in 1 Pool Set: Basketball & Volleyball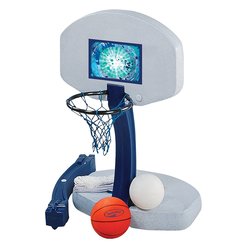 Sports fan or not, everyone enjoys a bit of basketball and volleyball in the pool. This pool set functions as both and with a quick tranisiton from one game to the other (no tools required) this is just idea for great gifts for sports fans.
---
Football Themed Blanket Throw
It doesn't matter if you're young or old, watching sports while wrapped up in a blanket like a burrito is the best feeling ever. This 100% cotton blanket is great to have around the house for those times you can't watch the score because of nerves or you need to wake up at 3am in the middle of winter such is the dedication being a sports fan requires. Shop now.
---

The Cup/Bowl With A Basketball Hoop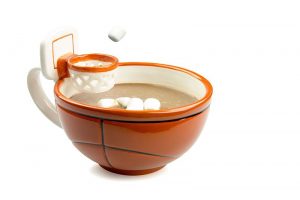 Don't play with your food? Yea right. These oversized mugs are one of those ideas where you can't believe you didn't think of it. This works as both a bowl or mug which is ideal. You can toss your cereal into the milk, marshmallows into cocoa, or even dunk your ice cream toppings. The possibilities are endless. Other sports are available too. You could flick your food into a goal, kick (not literally) marshmallows into the back of the net, or pitch cereal into a glove.
---
Football Whiskey Stones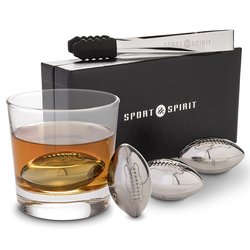 Whiskey and sports? Some would say watching sports with a glass of whiskey in hand is a natural state of being. For that sports mad fan, these sleek silver stainless steel football whiskey stones are the best way to keep their drink cool. They come with a pair of tongs in a luxurious box making them look classy as they sip away. p.s. you don't have to be drinking whiskey to make use of these. Stones are perfectly acceptable with a cup of lemonade.
---
Baseball Bat Electric Wine Bottle Opener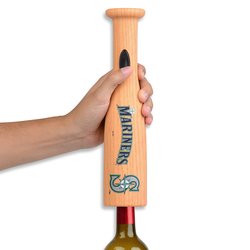 Ever seen your friend strike out when trying to open a bottle of wine? This cordless baseball bat shaped electric bottle opener can open 30 bottles on a single charge. Like many of these sports gifts, this is a great conversation starter and helps your sports mate from awkwardly trying to get a cork out with cutlery (because there's never a corkscrew around when you need one).
---
Baseball Ball Bottle Opener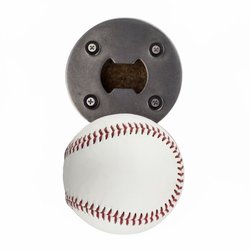 Rather than just a plain old bottle opener, why not get the baseball fan in your life a bottle opener made from part of an actual baseball. The construction is sturdy and with a magnet attached it stays on the fridge when not in use. Just don't blame us if they end up feeling inspired to pitch the bottle cap across the room after opening. Other half of the baseball not included..
---
Golf Ball Logo Thing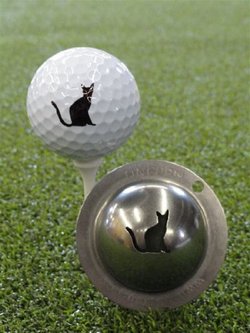 If you're looking for a gift for golf fanatics you can't go wrong by choosing one of dozens of these tin cup stencils. Marking your golfball is something every golfer needs to do, so why not give them a fun stencil for a neat and consist ball ID. Personal branding ftw.
---
Potty Golf Set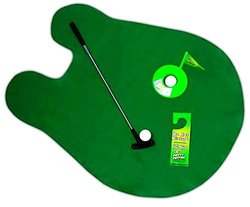 Putting…you can never practice enough. While this is a bit of a gag gift, if you get it for the right person they will use it. And you will too when you visit. With a green, cup and flag, balls, and a puttter, going to the toilet just got better. Note: maybe don't get this for someone in your own home….your bathroom may never be free again.
---
Snowboard Bottle Rack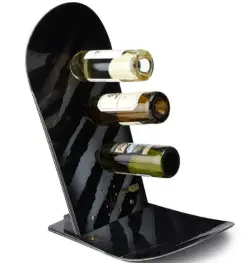 This is upcycling at its finest. Snowboards that were once flying down slopes, have been reclaimed and made into a unique way to display your best vintages.This gift is best for those who love to hit the slopes themselve as it jogs memories of awesome ski days everytime they see it. It may even inspire them to recycle their old unused boards.
---
Football Berries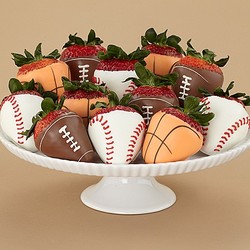 Yum! These hand-dipped and decorated sports ball berries can be sent straight to your sports mad fan before kick off for a delicious game day snack. Or order them to arrive at your place so you can look sneaky talented when you arrive at their home bearing these master pieces.
---
NFL Helmet Bottle Stopper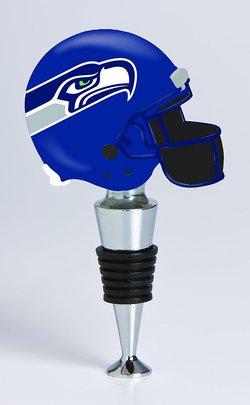 Not that we agree with half finished bottles of wine, but these are a thoughtful gift for your favourite wine drinking sports fan.
The stopper is made of nickel plated brass and its not gonng to go any where with the rubber rings in place and the topper is made of han-painted polystone resin.
---
Wine Charms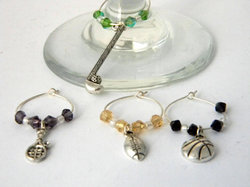 When you've had a few too many wines at the bottom of the ninth, keeping track of your wine glass gets a lot harder.
Buy this set of sports themed wine charms that have beads with different colors so your friends never hvae to pretend to remember what glass is theirs in which case they default too choosing to the glass with more booze.
---
Boxing Bell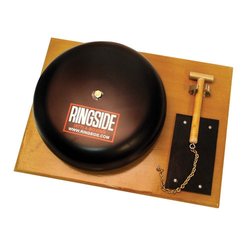 There's nothing more identifable than hearing the bell ring before a boxing match. If you've got a friend who loves a formal occassion, this boxing bell will have them smiling every time they go to strike bell with the brass hammer. This can be used for more than just the home too,the kids can make wrestling bouts at home more formal.
---
Plastic Beach Cricket Set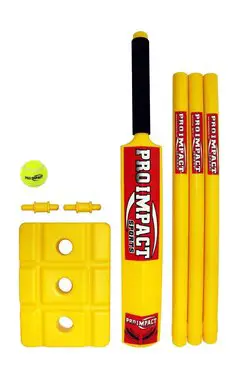 Never played cricket before? Thats totally okay, beach cricket is a great way to be introduced to the game.
If you've got a sports mad fan who is always up for trying something new, this plastic set will have imaginations running wild and lots of smiles and laughs on a beach day.
p.s. If they think their baseball skills will make them a great cricketer, there ego may be hurt.
---
Sports Mat Yoga Towel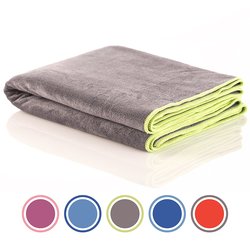 A practical sports gift for him or her. If that him or her is a sporty type who never stops, having a sports towel nearby is never a bad idea. This towel has a blend of microfiber and special weave giving it lots of abosrbtion so it works well for drying hair before putting it away shortly after (and it won't smell(. Bonus points: super practical for a yoga mat substitute. Shop now.
---
Lawn Stryper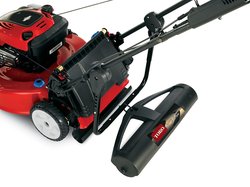 For the sports person you know who loves a bit of DIY around their own home, they'll get a kick out of this lawnmower attachment.
This system gives the user the ability to create their own stadium like field in the backyard with professional looking stripes and patterns. Shop now.
---
Football Cookie Cutters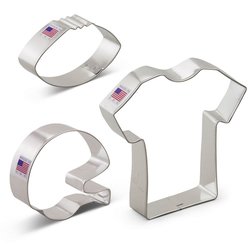 Mmmmm, cookies. For your sports fan who loves to bake, this cookie cutter set will have them preparing awesome treats for the next match.
There's no need to worry about the authenticitY as Ann Clark Cookie Cutters are known for their USA-made quality food safe construction. Plan this gift strategically and pick the person whose likely to bake some treats when they invite YOU over for the a match.
---
Golf BBQ Tools – 7 Piece Golf Grip Grilling Set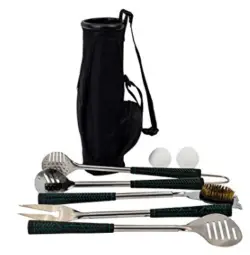 *Tim Allen grunting noises*
This 7 piece grilling set makes for the perfect golf gift for him or her who is a BBQ fmachine. They'll definitely brag about thir latest golf set to their friends and if it's for a family member, perhaps this gift could be a subtle hint you'd like them to use the BBQ more often. With a spatula, fork, tongs, cleaning tools, and both a salt and pepper shaker, it's all they need. Shop now.
---
Mike Tyson Ugly Jersey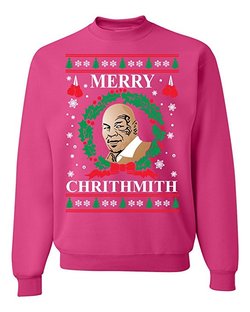 How funny is this! I'm a massive Mike Tyson fan having listened to his autobiography on Audible so if anyone I know is reading this…I want this present. Super funny ugly print that'll be a hit at any ugly Christmas jerseey party. Note, this isn't the traiditonal ugly jersey type material, it's an actual sweater. But it'll be a massive hit so who cares! Shop now.
---
Football Bottle Opener Keyring With Keyring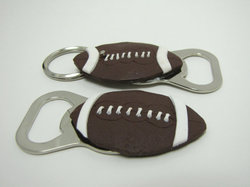 A nice cheap gift for sports a sports fanatic when you just want an extra thing to go with their main present. This is from a Etsy seller who handmakes them which is a cool little aspect. Perfect stocking filler. Shop now.
---
Football Poncho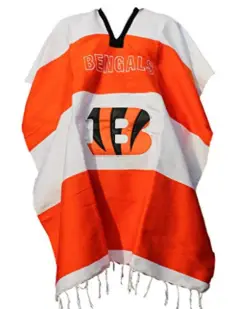 If you haven't worn a poncho before, you're missing out on one of the most comfortable things in life. A sports poncho stands out with the team logo combined with the team colours making you a standout one-eyed supporter. These are perfect for cold days at the stadium.
---
Retro Jackie Moon Unifrom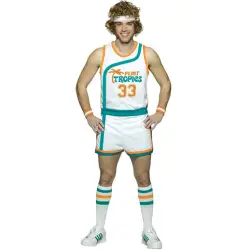 Will Ferrell anyone? This is the ultimate costume for a sports-themed dress up party. It's a classic retro uniform with the Jackie Moon name on it that many will recognise, the perfect conversation starter. If your present receiver has the hair to go with the costume naturally, that's extra brownie points for you.
This is a great sports gift for teenagers. They'll love the ease of this as a costume and get a few uses out of it guaranteed.
---
William Murray Polo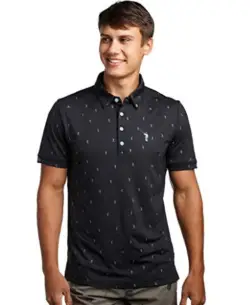 In total contrast to the previous gift, this shirt was inspired by The Bagpiper at Spanish Bay giving it a connection to Pebble Beach. From the William Murray Polo collection, you'll get great year round comfort with the shirt fit to wear for any occassion casual or formal, or on the course. Bonus points: it's wrinkle resistant for that messy sports fan you know.
---
Golf Watch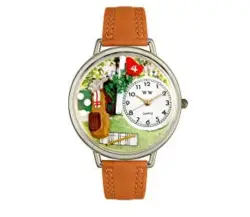 An obvious theme with this watch, yet it doesn't fall into the tacky category that sports watches often do. If you're looking for the best golf gift that is practical, this might be the one. It's a high quality watch and while golfers are particular about the golf equipment in their bag, this watch is a pretty safe bet for a nice present.
---
NFL Cufflinks and Tie Clip
Cufflinks are a timeless gift you can get for a sports lover with a nice personal touch that they'll wear with pride. These are good quality cufflinks made from finely polished brass. These cufflinks are suitable for the office, meetings, anniversary, or where ever you want to hereever yourgift recipient wants to give a subtle hint as to wheer their loyalties lay. Shop now.
---
Under Armour Men's Raid 10″ Short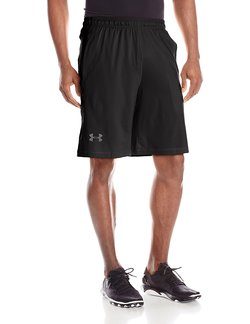 If you are looking for a sports gift for some active, these shorts are a solid option. The polyster HeatGear® fabric is super soft and doesn't weight much allowing it to move in all directions without being awkward. They work in summer really well with a anti-odor technology preventing mcirobes growing and it's UPF 30+ to protect the she skin. An all round great pair of shorts.
---
Travel Sports Bra With Pocket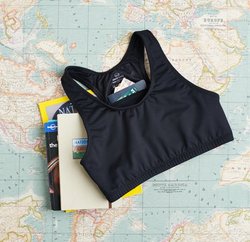 Sorry lads, this is a sports gift for her, who ever she may be in your life. I'm not going to speak for the ladies, but having a pocket in a sports bra is something I've heard many a female talk about for good reasons.
It's super useful for carrying your valuables when you don't want to carry around a large purse on a day of exploring. Someone should totally invent a sports bra for men, so we can get rid of these silly neck wallets.
---
Hockey Stick Coat Rack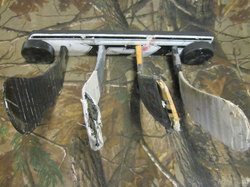 Made from loved and used hockey sticks, the signs of wear and tear add to the look of the coat rack. If the person you buy this for often hosts friends and family over to watch the hockey, this is the perfect way to get guests in the right mood for an awesome night.
The hockey rack is made of of two pucks, a goalie hockey stick shaft, and the blades and ends of two hickey sticks. Love the creativity. Shop now.
---
Ice Hockey Key Holder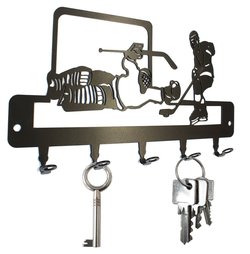 You could go for the double whammy and buy this along with the hoockey rack above and make the person your gifting this too make their entrance way the best on the street.
This simple 5-hook black steel design can hold all of the keys.
---
Basketball Is Life Phone Cover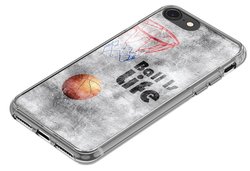 Do you know a basketball fan in your life who doesn't have a phone cover or interchanges them regularly? For them the Basketball Is Life phone cover will go down a treat. It's not a cheap design, with Japanese priniting tech giving the cover a vivid and bright effect in addition to its soft sides.
---
Golf Umbrella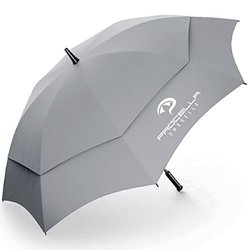 A gof umbrella isn't like your normal everyday umbrella. This is massive, at 62″ in diameter you can't exactly walk down the street with it (unless you want to be an asshole). It's designed to withstand wnds upto 46 miles an hour thanks to the flexible frame. This makes for a great golf gift for beginners who are still getting all the golf accessories for their bag.
---
Floating Waterproof Dry Bag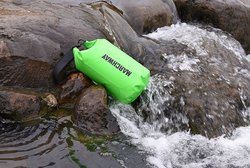 Need a gift for an adventurist? These dry bags are super valuable. They're light, don't take up much space, and can take a beating year after year.
The roll-top closure ensures everything in side ensures everything stays dry, just the way it should. It also floats when rolled and buckled up, perfect for those extreme water activities or even a day at the beach.
---
Just The Ticket Ticket Stub Holder

The best gift for sports collectors they never knew they needed. I'm getting one of these myself as someone who goes to lots of matches overseas. Currently the tickets I've got are scattered around my bag. This book like journal but will preserve my tickets for a longer time (some are already faded). Ticket stubs aren't always available now, but they are something people like to keep. Help that person who attends lots of sports events in your life preserve their memories!
---
Desktop Stress Reliever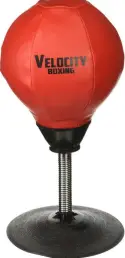 This could be seen as a gag gift, but it's a unique stress reliever differing from the classic smiley stress ball.
This small high-speed punchig ball has a suction cup with metal spring and will relieve stress every day for years (if need be…ideally you only need it occassionally).
---
Steel Money Clip
This stylish metal clip is a classy touch to anyones day to day set of accessories. The money clip is a sturdy brushed finish made of monochromatic steel that will only enhance the sports mans fashion.
---
Trifold Money Wallet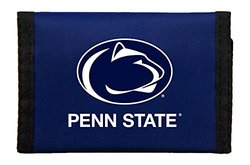 If the sports fan in your life doesn't use a money clip, this nylon wallet might be for you. Make sure you get the right team for that sports fan, they wouldn't be seen dead with the wrong team. The velcro wallet is an old classic that's totally functional.
---
A Growler For The Beer Drinker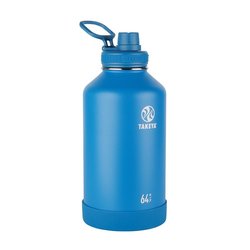 Do you know someone who attends tailgate parties throughout the summer? Then you could do them a massive favour and get them this growler that keeps their beer cold (or hot drinks hot). And the unique easy sip lid lets the beer flow down easy, hopefully not too easy…
---
Muscle Balm Sports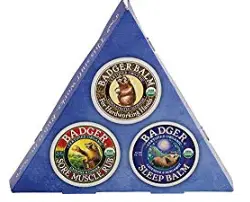 Have a sports nut in your life who is playing sports all day every day? This muscle balm is a terrific sports health gift for that person.
They may not think they need a balm, but this is a nice sample of three different balms each with a different purpose. There's no harm in trying them as they're 100% natural and certified organic. At worst, they smell nice from head to toe.
---
GoPro Fusion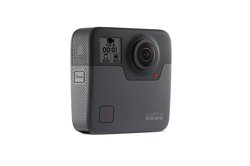 This is an expensive sports gift, but you can't get much better than the latest GoPro camera. With 4k video and 12MP photos, the quality of the footage is only getting better. If the lucky person in your life loves adventure, they'll be forever grateful if you get them the GoPro Fusion for Christmas, Birthdays, whenever!
---
Portable Fan for Iphone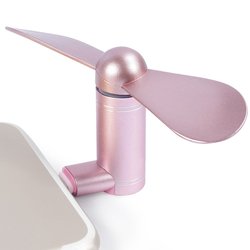 Watching sports can be tough when the humidty and temperatures are high. This portable mini fan is a fun sports gift that attaches to an iPhone cooling you down in an instant. You may have seen these for super cheap, but they would have been made out of super cheap materials.
This 2018 edition has an aluminum alloy shell with TPE blades that are light and effective at keeping those beads of sweat from dripping profusely.
---
Portable Bluetooth Helmet Speaker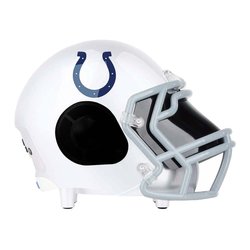 Awesome tailgate tunes are possible with this bluetooth helmet speaker. This contraption is light and with a long lasting battery of 8-hours, you can blast tunes not only through the tailgate but the game too (for background noise of course). A useful sports gift for professional fun havers.
---
Fisheye Lens For Phone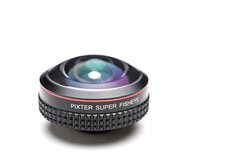 Do you know someone who refuses to take a camera anywhere with them because of the bulk?
Phones are pretty smart now so you don't exactly need one, but this fisheye lens will add variety to their photogprahy. It's particularly awesome when you're trying to get a group photo but want to get the stadium involved as well.
---
Portable Power Bank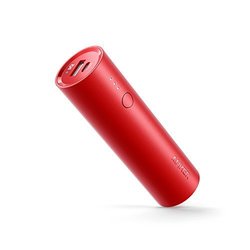 Phone batteries seem to die faster than ever these days right? If you've got a present to buy a sports fanatic who takes lots of videos at events, an extra power bank will do them wonders as they no longer need to stress about conserving the last 20% of their battery. Then again, they might video even more and never actually watch the match.
---
Polaroid Camera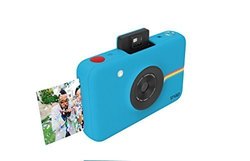 If you're buying a gift for a spontaneous person, a Polaroid camra is a perfect gift. Polaroids have made a bit of a comeback, and what better time to capture the fun your having than wwhen you're at the stadium or even in the minutes after you've finished a hard game.
You don't have to be a photography master to take a fun snap with a simple point and click giving you a vibrant photo to remember the moment.
---
Camera Shutter Remote Control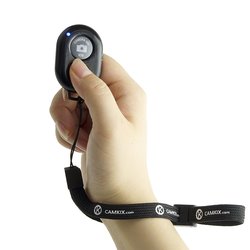 Finding a gift for trail runners isn't easy, but this camera shutter remote control is a sneaky good idea.
When people are out running trails there are so many awesome views to take a photo of, that a selfie won't do the background justice. With a remote shutter they can set the camera up and snap away toget awesome action photos.
---
FIFA on Xbox Etc.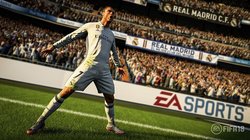 A new edition of FIFA has been released annually for over 20 years now and there's a reason for that. It's so popular and loved by millions of football fans around the world making it the perfect gift for Xbox or PS onwers who love football.
Even if you know they haven't played the Xbox for a while, the newest edition of FIFA will get them inviting all their friends over. The perfect gift for a soccer fan young or old.
---
Zepp Golf 3D Swing Analyzer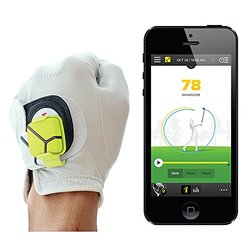 Golf is hard. But if you have a golfer in your family who loves trying to improve their game, the Zepp app will give them so much detail about their golf game you might never see them again.
The app tracks sing speed, various position, how much their hip rotate and then they can compare it against the top pros in the world in the app. The Zepp Golf 3D Analyser comes with the Zepp sensor, glove mount and the apps (iPhone and Andoird). You could also get the bat and racket mounts for baseball and tennis analysis if they play those sports too.
---
Personal Cooler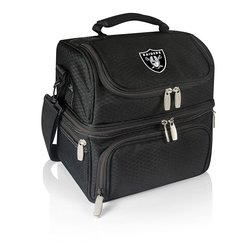 This gift isn't for everyone, but if you have a sports fan who takes a bag of food to prepare for lunches on the go, this personal cooler will become a valued friend. The picnic tote is made of a durable polyester and inside there are separate sections for hot and cold food. It even comes with a set of salt and pepper shakers. Out with the plastic bags, in with the cool branded with their team logo.
---
Duffel Bag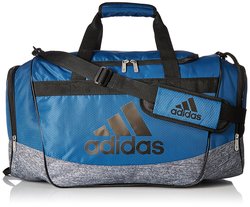 A duffel bag is a sports players best friend. With their spacious design, it's easy for all their sports gear to fit in the bag and easily accessed when requird. This particular bag in the photo stands tall for packing ease and is made with reinforced ripstop material for long lasting use.
Shop now.
---
Cue Ball Bag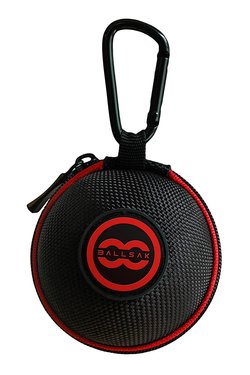 This is the ideal gift for billiard players who don't want to play at the local table and use the communal balls that are chipped and damage.
Every competitive player should have their own pool cue, and this case will insure it stays in good condition with the extra strong strap preventing the case from falling. It goes without saying, pool players can use this too.
---
Backpack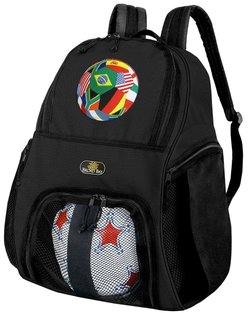 Everyone kid wants a new backpack, or at least won't say no to a new one. These football backpacks are super strong and come with a compartment to dedicate for their football (or volleyball) and still has a couple of zside pockets for tape, mouthguard etc. The soccer backpack makes a great present for soccer fanatics.
---
Pacifiers For Adults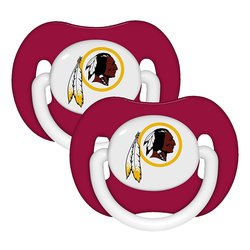 BEST GAG EVER. Do you know someone who is always whining and/or making up excuses for their teams poor performance? Its time for pay back and this pacifier will be a not so subtle way of telling them it's time to shut up!
---
Buying Shares In Their Team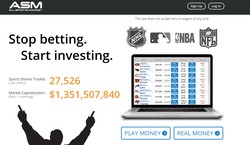 This is a slightly different gift and is perfect for the right kind of person. If you know of a sports fan who is an avid fantasy player or has a passing interest in cryptocurrency or shares, this gift will likely be of interest. It's not for everyone, but it's definitely a unique sports gift to buy shares in their team for them! This time they can really say they're putting their money where their mouth is.
---
Sumo Suit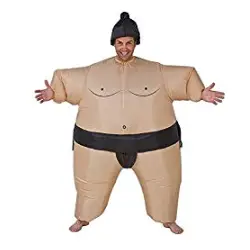 For the right sports fan, they'll love being the center of attention at parties with this sumo suit. The one size fits most people, and they won't die inflating the costume as their is an inbuilt fan to help regulate temperatures, thankfully. Go sumo! Shop now.
---
3D Puzzle Of A Sports Stadium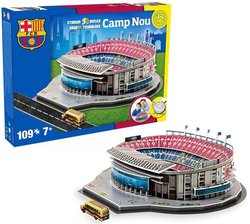 How cool is this! When this puzzle is complete the result is a 3D model of famous stadiums around the world. There are several stadiums availabl so if you can find the stadium of your friends favourite team, this is a cool sports gift they will proudly display the finished masterpiece at home. Shop now.
---
Watch Ya Mouth WWE Edition Party Card Game
I liken this card game to the sports edition of cards against humanity (PG style). WWE wrestlers are incredible entertainers, and you can relive some of the greatest phrases and moments in WWE history, while wearing cheek retractors. This is a funny gift for families who love sports and laughter. Shop now.
---
WWE World Heavyweight Championship Belt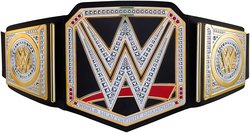 If you've got a child who loves wrestling, this will make their day the best day ever. The belt is wearable (for older kids) but most of all they can celebrate like their heroes. Whether it be waving it around, wearing the belt over their shoulders as they strut around the house, they'll love it! Shop now.
---
Flask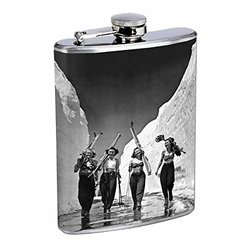 A flask is a gift that everyone can appreciate. Just because you're gifting a flask, don't automatically assume they have to be a booze hag.
They can even look nice as a display piece on their own, especially with their teams logo branded across the front. You can even go a step further and personalise the gift with their name engraved on it. Shop now.
---
Boxing Bag Speed Ball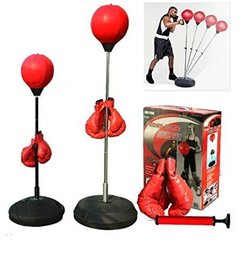 If you've got someone who loves to fit in exercise whenever they have the opportuniy, this speed ball boxing bag will keep them honest.
It's used as an anti stress device for many, but with an adjustable height of 48′ to 59′, 30 minutes working on this and you'll be exhausted. These make the perfect sports gifts for athletes. Shop now.
---
MLB Playing Cards
Not a lot to say here, cards are cards right? But with the backs featuring the logos of MLB baseball teams they make a good stocking stuff at Christmas. You can also suggest they play a game of baseball poker…a variation of Texas Hold'em which you can see the rules for here.
---
NFL Game Day Board Game
A fun and simple game for families to play who love NFL.
There's some strategy involved, and as it's based on actual NFL statistics so you can totally justify this game as a learning tool for children!
---
MasterPieces NFL-Opoly – Monopoly, Football Style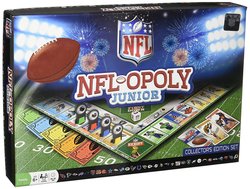 From the start where you can create your own custom playing piece, to the ingame action of recreating the NFL Combine and Drafts, you'll have a blast strategising your way around the board with the goal of earning money on the way to winning the Superbowl.
---
365 Sports Facts Calendar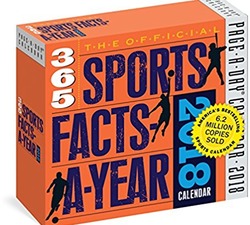 A calendar is a classic gift but this one will make every day at the office that little bit more interesting interesting for the whole year. Each page features outstanding moments of sport, and sometimes you'll find quotes, statistics, or trivia. If you've got someone who loves everything sport, this is the gift for them.
---
Schutt MLB Baseball Helmet Desk Caddy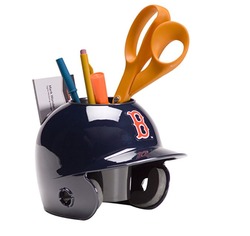 There's nothing quite like announcing who you support than by plonking down some team merch on your desk. If you've got a sports friend who loves their team through and through, this helmet desk caddy will strike up lots of conversations at work. Though they might want to move it down to the bottom drawer when things aren't going so well…
---
Bushnell Rangefinder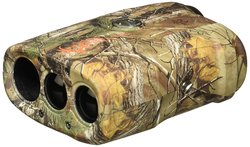 There have already been a few great golf gifts shown here already, but golfers love gadgets so why not more!
The rangefinder lets the golfer get the exact distance to their target in one click. With an accuracy of +/- 1 yard don't think this will stop them complaining about the game at any opportunity.
---
Bushnell Powerview Compact Folding Roof Prism Binocular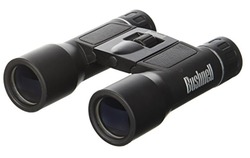 Binoculars aren't just useful to have in the back of the car for random events.
An avid sports fan will appreciate a food pair of binoculars they can use to get an up close view of the action. The're more of a gift for spectators than players, those who love to go and watch golf or who always end up in the nosebleeds at the local stadium. This gives them a chance to see the action without waiting for the big screen replay.
---
Silicone Wedding Ring For Sports Players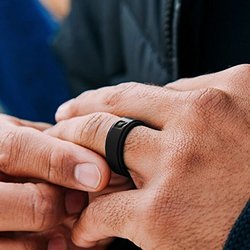 This is a great gift for sports loving partners who are always misplacing their ring. A silicone ring is a suitable replacement for a wedding ring as it's safe, functional, and most of all more durable. It's not only for when people are playing sports, it's for the jobs where you get your hands dirty too with the silicone ring functional in the roughest of environments. It's not as glamourous as a wedding ring, but let's be honest, there's more to a ring than looks.
---
A Sports Autobiography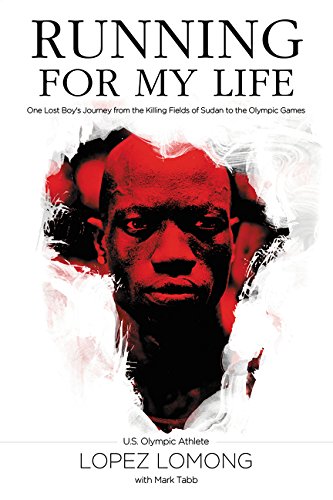 And don't get the Kindle version, a real book is always better. There are hundreds of sports books published by some of the greatest athletes the planet has ever seen. If you know the person you're buying a gift for at all, you'll likely know who their favourite players are…get Googling to see if they've written a book. Or scroll through the lists on Amazon and take a lucky guess.
RELATED POST: MY SPORTS AUTOBIOGRAPHY REVIEWS
---
Sports Socks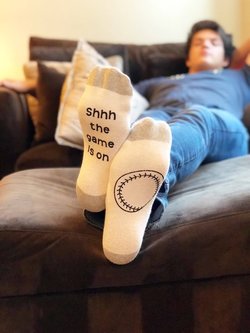 YES! We couldn't not have socks featuring on this post right? At least these socks are fun, not plain white sports sicks.
Shhh…the game is on!
Nothing more needs to be said. More socks are never bad…besides the possible judgemental looks.
---
Go Sports Team Shirt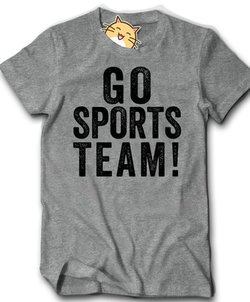 This is the best gift for a sports mum or dad. If you've got that parent in your life who simply wants everyone to win no one to lose, and get hurt then this will have the whole household laughing.
GO SPORTS TEAM!
---
Handmade Football Pen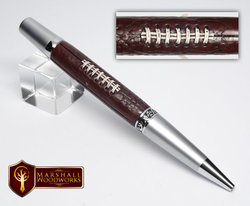 For a unique sports gift, something hand made will do the trick (even if it's not your hands). These footall pens are made one at a time by the designer from polymer clay. If you'd like to put a personal touch on the gift, you can chat with the creator as she is willing to make the perfect gifts for sporty guys.
---
Best Friend Necklace Baseball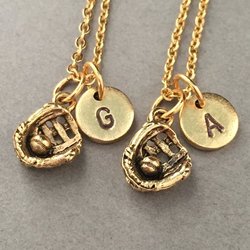 If you share a love of baseball with a friend, you can get a set of these necklaces to further cement your friendship. The necklaces are gold plated (pewter), including the charm. You can personalise the charms with hand stamped initials as well as choosing the chain length.
The creator will ensure they're packaged nicely and can include a handwritten message if you choose.
---
Mason Jars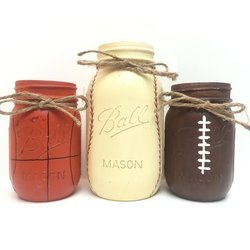 This set of three sports themed mason jars are a fun gift that can be used for a variety of purposes. From decorating a room, to using for celebrations, table cenerpeieces, or storage spots on a desk, everyone can find a spot for these.
---
Baseball Cross Neckland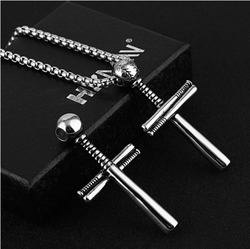 Obviously this cross necklace is for abaseball fan who has a strong Christian faith inside them. It's a unique gift that will last years with the long lasting stainless steel construction. The link chain is 24 inches in length, again made of stainless steel, with the link chain a long time proven strength builder.
---
My Best Catch Charm
If the baseball player in your life had a great catch that will be forever memorable recently, this if the perfectly timed gift. The small charm is of a mitt, but the tag is where the magic comes in as you can have it personalised with the date, never to be forgotten.
---
Behind The Mask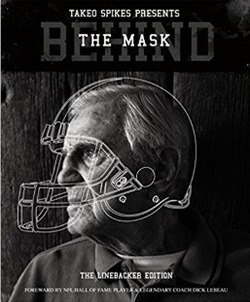 Former NFL player Takeo Spikes has put together this incredible coffee table book. Focusing on linebacks, the book covers the stories of 12 of the best linebackers to ever grace the NFL. The images are touching and with a focus on greatness, the depth of the stories goes places you didn't think were possible.
An inspiring book for any coffee table collection.
---
Firepit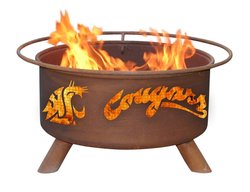 A unique twist to a fire put with the name of your favourite team cut out to glow in the silhouette of flames. The wire meshing lines ensure no sparks go through the cutout and with the firepit rusting over time, this gift gets more beautiful as time passes.
---
Snack Helmet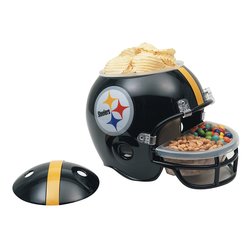 This is a fun gift for kids that love watching sports. And snacking. The trays are both microwavable and dishwasher safe meaning they can be used for adult events, not just kids. For size comparisons, they are as big as an actual helmet. Candy, pretzels, chips, dips, everything works with the snack helmet.
---
Shoe bottle holder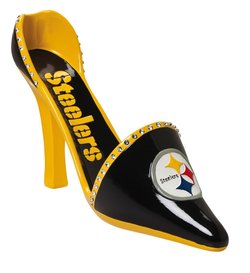 For the classy wine drinker, this could be a bit tacky, but it's so much fun. The heel is hand painted polystone to give an embossed finish.
---
Woah, that was a lot of text. If you've gotten to this point congrats! I hope it has helped you find the amazing sports gift for him or her in your life, in whatever capacity they are.