Once the 36-hour long train spat us out in Irkutsk the plan was to go straight to Lake Baikal's Olkhon Island. After doubting a van driver, we visited the lovely i-site lady who confirmed the van driver was legitimate (life in Russia's east isn't so hard after all – we expected a tourist price) and later in the afternoon we began the six-hour ride to Olkhon Island.
We finally reached Lake Baikal and drove onto the ferry; surprised by how short the ferry ride was. The ferry had only become operational a couple of weeks earlier when the ice had defrosted enough after the wild Siberian winter. Nek minnet we were driving to Khuzhir, Olkhon Islands main village with 1500 residents. Thanks to the lovely i-Site lady we were dropped off at our homestay she organised for us and were greeted with an incredibly enthusiastic host who spoke no English and our experience of life in Russia had officially started. After fumbling around with charades, we had our sleeping arrangements sorted and were ready for a few days of Olkhon goodness.
Where Is Lake Baikal?
First things first. Lake Baikal in Southern Siberia is a five hour drive Northwest of Irkutsk. The lake holds a few world records:
Deepest Lake: 1,642km
Largest Freshwater Lake (by volume): 20% of worlds total freshwater
Oldest Lake: 25 million years old
And some other facts:
More water than all the Great Lakes combined
1,700 plants and animals thrive in Baikal
The Homestay Experience
Our homestay experience was interesting to stay the least. They don't have much in the way of resources on the island but our hosts house was nicely decorated but did lack a traditional shower. Thanks to Google Translate we eventually managed to get across the idea we would like to clean ourselves after 48 hours without a shower. We did not expect a banya (sauna) that is for sure, a normal part of life in Russia in rural areas. We were taken out the back into a wooden building dedicated to the banya. Given basic instructions I was then shoo-ed out of the room to leave the girls to it; I felt like a five-year-old avoiding the girls cooties. The banya cannot be cheap to run, we only got to try it twice but felt so clean with our skin feeling like a babyies bottom. Each day our host, Louvo (the Khuzhir libarian) left us to our own devices with her elderly mother often ranting away in Russian (she was deaf). We would make tea and oats each morning before exploring and were welcome to come and go at all hours, perfecto.
If you want to stay at Louvo's, the easiest way is to reach out to the team at the i-Site in Irkutsk who can arrange your stay over the phone. Apparently she is the most popular host in Khuzir, but try your luck. if not, no doubt the other home stays are worthy of your stay.
RELATED POST: IS THE TRANS_SIBERIAN RAILWAY WORTH IT?
What To Do In Khuzhir
There's not a whole lot to do really. We were there (May 2015) before peak season so a lot of businesses remained closed. There were lots of small supermarkets, it was crazy how many there was with no real difference in their offering. Apparently Khuzhir only got electricity seven years ago which was evident at night as we walked along the dusty roads in pure darkness when the last of the shops closed. Internet access for us could only be had at Nikita's Guest House, the most popular Olkhon Island hostel. After getting there I think we were all stoked to be paying 500 rubles to stay with Louvo than whatever the amount was to stay at Nikitas. We did meet people at Nikita's for a beverage a couple times as it was the place opened latest in town.
We found one restaurant we liked, and did the obligatory visit to Shamanka Rock. There, we climbed into a little whole closed off from the wind and had a great picnic before the wind passed allowing us to take in the view at the top of the rock.
One other task we had to complete was swimming in Lake Baikal. This was not going to be easy having seen ice remaining on the lake when we arrived. It was going to be cold. But we just couldn't turn down the opportunity of living an extra five years (so legend says) by completely submerging ourselves. It was cold, but we did it because we are tough kiwis and quickly returned to normal duties on our last day in town.
What To Do On Olkhon Island
I would highly recommend doing a bike trip across to the other coast. Not everyone would enjoy the full loop we did (I
Epic Mountain Biking
One day we hired mountain bikes for 400 rubles and set out on a mission to get to the other coast line. Using maps.me we followed a track and struggled mightily up the hills. It was a lot tougher than I expected. After another not so pleasant picnic with rain and wind as uninvited guests again Robyn and Holly decided enough was enough and headed back. Leeza and I were determined to make it to the other coast. Post picnic the ride was fairly cruisy. We found an old hut people probably sleep in from time to time and soon enough were greeted with a wicked view.
We hung around for 30 minutes or so, built a cairn and then made our way back home; we saw no one else all day. Coming home was epic, the hills we slogged earlier allowing us zoom back to Khuzir.
hated it at the time) but it was fun type level three where you don't enjoy the process in the moment but afterwards you are like 'OMG that shit was sooo epic' or 'Wholly fuck I'm exhausted but it was so worth it'. Yea, that kinda fun.
Guided Coastal Tour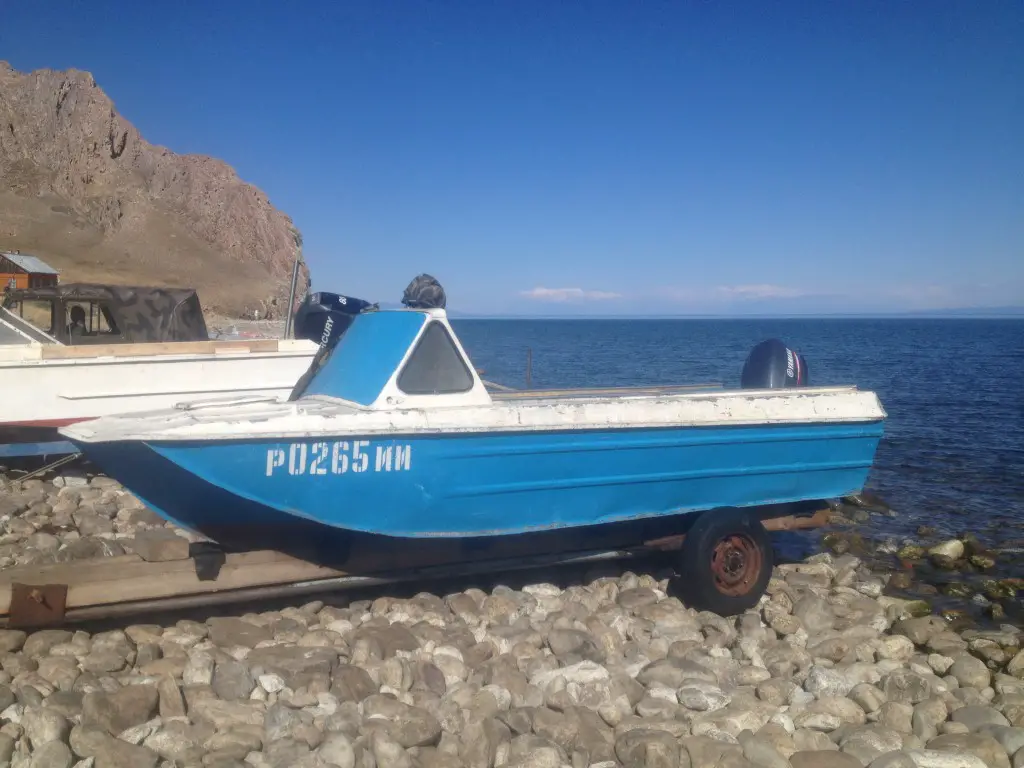 The other activity we did was a guided coastal tour. I think we paid 800 rubles (booked at Nikita's the previous day) and were joined in the Russian army van with six others. I was reluctant to do the tour such is my dislike to follow a fixed schedule but would have been jealous of the others had I not gone. We stopped off at eight points along the coastline and saw some stunning views. The few people who live life in Russia out here are really isolated, the road barely existing in parts and there was only a few houses bunched together in the 'villages'. If you do go to Olkhon Island, you probably should get involved in this (ideally you get a perfect day like we did) and there really isn't a lot to do. The included lunch was really good too, vegetable soup and bread, yum yum!
Overall Olkhon Island Thoughts
Yay and nay. The bike ride was the highlight for me and seeing the views on the tour was cool too but the town Khuzhir was pretty boring and I think two nights would be my ideal length of stay (we stayed four). I was glad when we were back in the mini van to head back to Irkutsk but am very glad I got to experience life in Siberia.
How To Get To Olkhon Island
If you hire a car, you can drive straight to the ferry which runs every 30 minutes or so in the summer or drive over the ice in the winter. If you have no transport, head to the Irkutsk bus station and across the road you will see a mini van with a large yellow sign saying Olkhon Island. They leave twice a day and cost 800 rubles per person. If you have any trouble, head to the i-Site, they are incredibly helpful.