Georgia wasn't in the original plan for 2015. Thanks to Ukrainian visa issues I found myself searching WizzAir for the cheapest flights to Georgia. Other than the excitement of getting to watch the All Blacks play Georgia in Georgia (on TV), I was looking forward to wine and hiking. Mostly the Georgian wine.
Getting A Quick Lesson About Georgian Wine
A quick bit of research on the wine culture let me know Georgia is one of the original makers of wine and the country is starting to let the world know. I had my first bottle of Georgian wine on my first night. Sipping away on a semi-sweet white I picked up down the road for less than three euros. It was awesome.
The majority of the wine in Georgia is made in the eastern region (Kakheti) of the country. After hearing about a wine festival in Telavi, I aborted plans to goto Armenia.
Getting to Telavi wasn't exactly easy. On arrival I had to dodge at least 214,000 rain drops from the heavens enroute to my home stay.
Checking Out The Wine Festival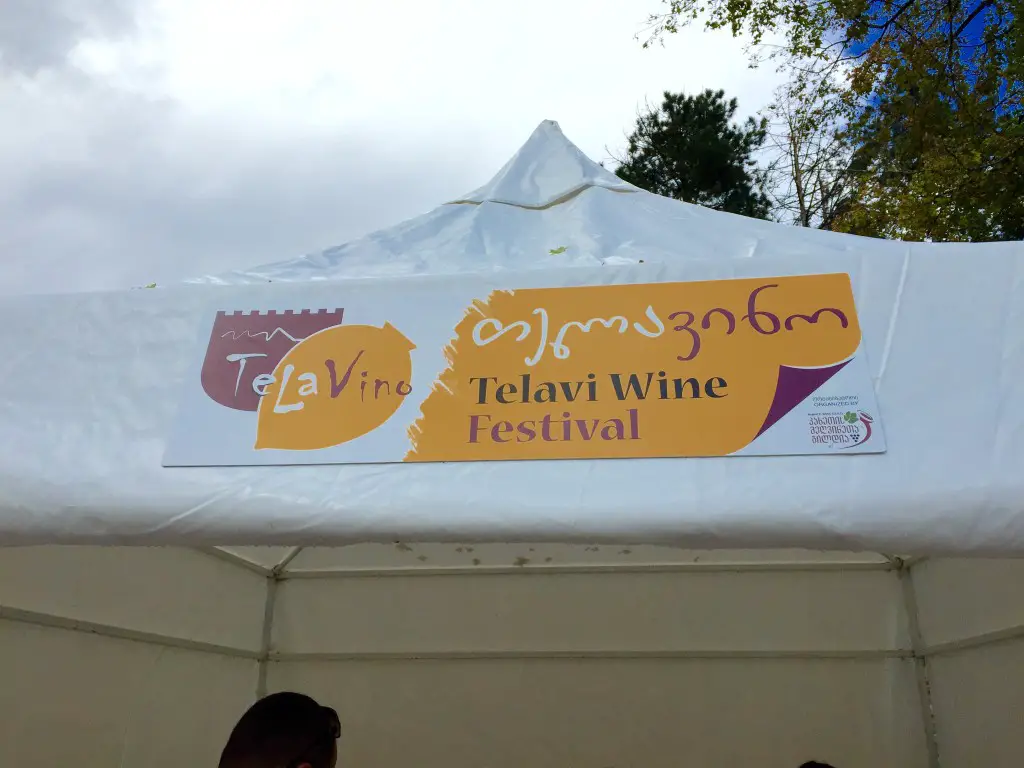 The rain miraculously stopped once I put my bags down. Time to head into town in search of booze hags moonlighting as sommeliers on the gloomy Saturday afternoon.
It wasn't hard to figure out where the Georgian wine festival was. Crap weather MAKES people cancel plans. Except when alcohol is involved. So when I heard some funky music blasting away and the only thing resembling a crowd I headed on over to investigate Georgian wine culture.
The festival was a lot smaller and casual than I expected (the rain played a role I'm guessing). My first entrance saw me avoid eye contact with everyone, pacing around the crowd watching a performance and past the dozen or so white marquees. At the end I saw climbable ruins where I had a quick debrief with myself while I looked back over the festival.
RELATED POST: CYNTHIA SPENT A YEAR IN GEORGIA AND LEARNED MUCH MORE ABOUT GEORGIAN WINE
It was clear the festival doesn't draw crowds in from around the country. There were few if any foreigners. Could anyone speak English? And the big question, how on earth do I behave at a wine festival?
Where was a wine festival for dummies book when I needed one!
I decided to watch the performers first. At least there I could stand in the crowd and not have to do anything but keep observing my surroundings figuring out what to and not to do. Wine festival etiquette learning in full effect.
I saw two performances, some crazy kids in black leprechaun like costumes with wigs running round like they were on hot sand. The second was a bunch of adults of various shapes and sizes singing a choir. Talk about contrasting acts at traditional folk festival!
After retrieving some Georgian Lari from the ATM it was time to approach a white marquee. I chose one the tent no other person was at and approached with a cherry 'Hello' in a voice as clear as the kiwi-ish accent allows. I got back a hello. Boom the ice was broken. They quickly realised I had no idea what to do next as I prayed they would offer me some Georgian wine tasters.
Wine Rep: Would you like a sample?
Jub: SURE!
Wine Rep: What would you like?
Jub: Um, red sounds good.
Wine Rep: Do you prefer semi-sweet or dry?
Jub: *In my head* Jebus, I'm a booze hag not a connoisseur.
I kept bluffing, awkwardly smelled and swirled my plastic cup of semi-sweet red wine. Took a gulp and of course gave the wine compliments.
After some small talk about wine, I decided enough bluffs had been pulled at the marquee and headed off. Not before requesting a white dry sample to go and ensuring them I'd be back to buy a bottle later.
The next marquee I approach, it is much the same. Each marquee has one representative who can speak English, win. I sample a bunch of wines at a few marquees. The options are always the same: semi-sweet or dry and red or white. I try 'em all and can't criticise them all, they all gone down smooth.
There is some hilarity when a really drunk lad starts talking to me, asking me if I'm muslim (bearded stereotypes) before offering to help me with some tastings. He admits he is drunk as and gets distracted soon enough by something else while I laugh with the reps at the tent he brought me too.
The festival was small, but definitely intimate. I met an American lecturer working in the region for a few months and talked to a couple others. Got some photos snapped, before buying a couple bottles of wine and heading off to explore the rest of the city.
Did I Graduate To Connoisseur?
Later on that evening as I drunk one of my purchases straight from the bottle confirming I was not yet a connoisseur (the home stay lady gave me a glass but it was filthy).
Time To Visit Some Wineries
The next day I awoke to rain, niggly. From what I learnt, most of the wineries were only accessible by car or carefully navigating mini buses from winery to winery. There was one close by. That was the goal so I proceeded to the Khaketi Wine Guild (the best sounding guild ever) for further instructions.
45 minutes, I arrived like a wet rat at the Kakhuri Winery. The little shop at the front was cute, but the winery itself had a very industrial feel to it. My memories of the wineries I've been to in Aussie were luxurious places. This was the complete opposite. I wasn't complaining though, for 15 Lari I'd private tour of the winery followed by a tasting of six varieties they produced.
Here is a few things I learnt about the Kakhuri winery, and wine making in Georgia in general. Well from what I can remember 10 ro so days later.
Georgia exports their best wines, mainly to countries neighbouring countries.
Kakhuri winery doesn't grow their own grapes instead, buying them from selected growers in the region.
There is two different wines Georgia produces, European wine and Kakhurian wine (Kakhuri is both the brand of this winery but also a type of wine).
For European wine, the grape juice is fermented without the skins or seeds, giving it a lighter color and initially fermented for a month or so
For Kakhuri wine, the grape juice is fermented with the skin and seeds giving it a darker color and fermented for 2-3 months.
After the tour we went to the tasting room where I tasted the six varieties (the names are tricky to remember). The tasting room was awesome and the owner proudly displays his impressive collection of mini bottles of spirits collected from around the world.
I brought a souvenir for a change having felt like I got a great deal for my 15 Lari it was the least I could do. Now to workout what to do with it.
There was another winery, Teliani Winery down the road which I walked to. Unfortunately this place wasn't so welcoming, with over the top security greeting me. I eventually found out I could get a tour for 30 Lari with wine included. I decided not to do the tour deciding instead to get back to Tbilisi that evening. With the shitty weather continuing visiting more wineries the next day was not going to be practical. The way I felt treated at Teliani winery also contributed, it was like I was a burden turning up.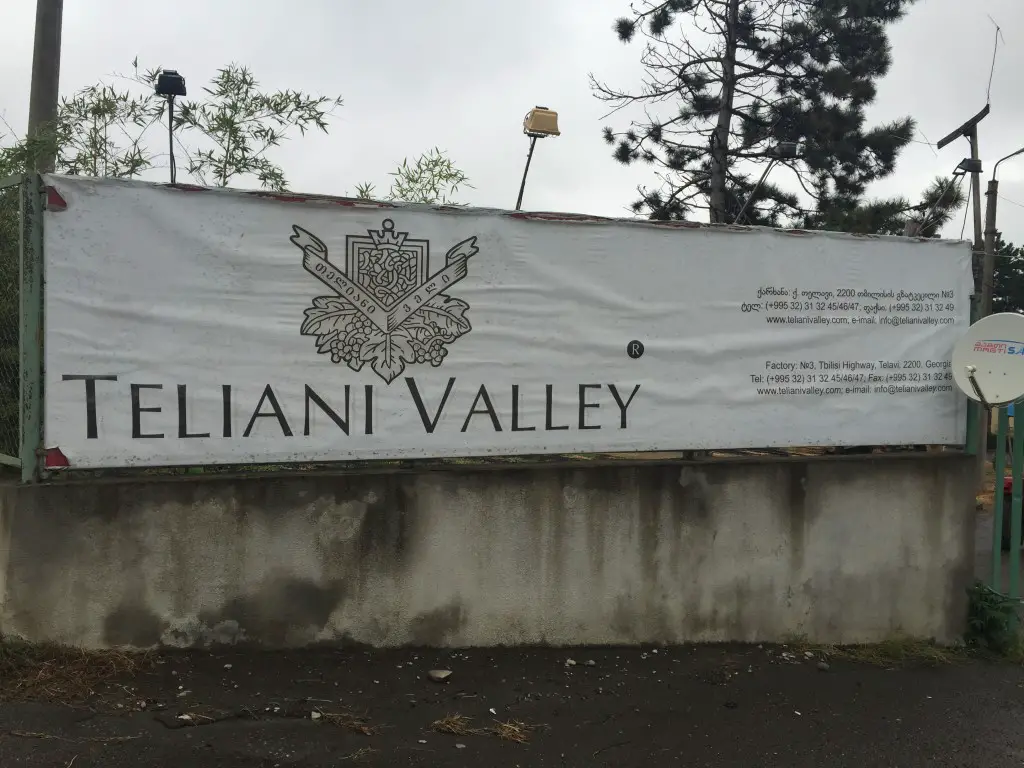 That brought an end to my wine excursions in the region.
Churchkhela, The Perfect Alcoholics Snack?
I also finally found out what this snack was that I'd seen in abundance in Tbilisi. It looks like candle wax when it is hanging in stalls but it is actually called Churchkhela. Walnuts are placed on a piece of thread which are then wrapped up in a dough made of grape juice and flour. Sadly it is not alcoholic, preventing it from being the no.1 alcoholics hiking snack. I'd like to think it would give beef jerky a run for its money in flavour though, the dream snack for vegans on a poker night.
Wine in Georgia is unbelievably good and I drank a bottle most nights while in the country. Georgia is slowly putting processes in place to start promoting their country as one of, if not the oldest producers of wine in the world.
Next time you are at the supermarket, keep and eye out for a bottle from Georgia. You won't be disappointed.
Google Maps Link To Stuff Mentioned In This Post
HOW TO GET TO TELAVI
You can to Telavi from Isani Metro station, Tbilisi. When you exit the metro station you will likely get approached for a shared taxi, which should cost 10 Lari. Alternatively walk to the nearby bus station and expect to pay 7€ for a mini bus/mashutka. Note: Either option you choose may see you waiting for an hour or so. If you choose to go via mini bus, it takes longer as it heads towards Sighnaghi before heading to Telavi.
WHERE TO STAY
I stayed at Medea Guest House. The owners spoke a few words of English but were very nice offering me grapes upon arrival. It is a 15 minute walk from downtown, but considering I had the place to myself a 8€ hotel is awesome.
MORE INFORMATION
Pop in both the tourist information center and Kaheti Wine guild in Telavi (five minute walk from one another). They can help you plan your wine adventures in the region.