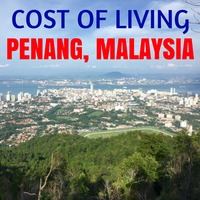 Want to know the cost of living in Penang?
I spent 33 days month in Penang using Trail Wallet to track every expense on the island.
Before arriving in Penang these were a couple of posts I read letting me know it is possible to survive on less than 500 USD/month:
Jet Set Living Well in Penang
Life Part 2 in Penang
The currency in Malaysia is the Malaysian Ringgit, MYR. We'll use the currency symbol RM.
My Lifestyle For One Month In Penang
Didn't leave Penang Island at all
Wasn't playing tourist everyday
No alcohol. I decided to not drink alcohol while in Penang (lasted 42 days total)
Spent at least a few hours nearly every day at @CAT the co-working space
Once I find 6 – 10 dishes/restaurants I like, there's little desire for me to visit new restaurants
This excludes expenses related to running this blog (a few dollars/month)
Cost Of Living In Penang: July 20th, 2016 – August 19th, 2016
*I arrived on July 19th, but left this day out as it included transport from Kuala Lumpur.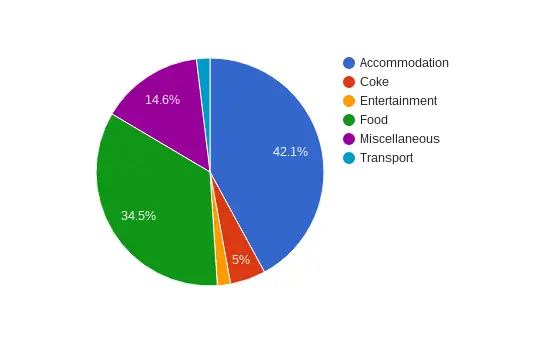 | CATEGORY | MYR | USD | EUR | NZD |
| --- | --- | --- | --- | --- |
| Accommodation | 855 | 208.90 | 186.50 | 286.80 |
| Food | 702.05 | 171.50 | 153.10 | 235.50 |
| Entertainment | 38 | 9.30 | 8.30 | 12.80 |
| Transport | 39 | 9.50 | 8.50 | 13.10 |
| Miscellaneous | 296.35 | 72.40 | 64.60 | 99.40 |
| Coke | 102.35 | 25.00 | 22.30 | 34.30 |
| Total: | 2032.75 | 496.60 | 443.30 | 682.00 |
*exchange rates as of 1st September 2016
Want to see my day by day expenses in Penang? Checkout the spreadsheet here.
Related Post: AN EXAMPLE OF EXPENSES FOR 9 NIGHTS TRAVELLING IN MALAYSIA
---
General Notes About What You Pay For Things In Penang
Accommodation: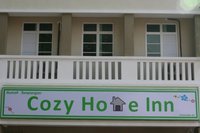 Hostels and hotels can be found all over George Town and Batu Ferringhi. George Town is where most tourists stay as do those staying for a period of a month or two.
General Rule: the closer to George Town the more expensive the place is going to be.
Hostels can be as low as 15 – 20 RM/night with the average being 25 RM.
Getting a monthly discount on hotel rooms wasn't easy in my experience (compared to Chiang Mai at least). I visited 10 different places and only three gave a discounted rate for a month long stay. Be prepared with your negotiating skills if you'd like to get a reasonable discount over 20% off.
For 800 RM/month I stayed at Cozy Home Inn on the edge of the official George Town UNESCO cordon. They weren't very responsive on Facebook or phone, but you should be able to get cheaper rates when seeing them in person to reduce your Penang living cost. Perhaps book one night online, then chat to them in person for the discounted rates.
Lots of airbnb places are available for a wide variety of prices in Penang.
If you want a dorm room for 300 RM/month, let me know and I can email you details.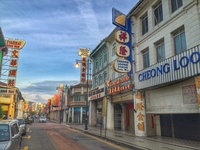 Places I stayed during the month of living in Penang:
---
Cost Of Food in Penang:

Penang is one of best food paradises in the world.
Malaysian, Chinese and Indian are the three dominant cuisines in Penang. The best part? They're all done to an epic level and can be found around the clock in George Town.
At a restaurant you'll pay between 5 – 20 RM for a meal depending on the usual factors that effects restaurant pricing.
Street food meals can be found for as low as 3 RM, you can find street stalls off Lebuh Chulia in the evenings until ~10:30pm…at worst there's several 24/7 convenience stores.
Of course, you can pay more for a meal at an upmarket restaurant and for Western meals.
For a cup of coffee or tea at a coffee, expect to pay 4 – 9 RM.
The standard price for a coconut is 4 RM. Fruit varies stall by stall, make sure to get the price before handing over the fruit/veg. Check out Chowsta market in the mornings.
Dates range in price from 8 – 16 RM depending on what kind you buy.
As a vegetarian/vegan, you're well looked after in Penang. There are a couple hipster joints that'll charge you through the roof for the latest organic, raw goods etc. but regular meals are priced reasonably.
In regards to water, it was available for free at the coworking space so there wasn't a need for me to buy it often (it's included in the food budget). A 1.5 litre costs 1-2 RM.
A few of my favourite restaurants in Penang:
Overall I think the Penang food prices are insanely awesome for the quality you get.
---
Getting Around Penang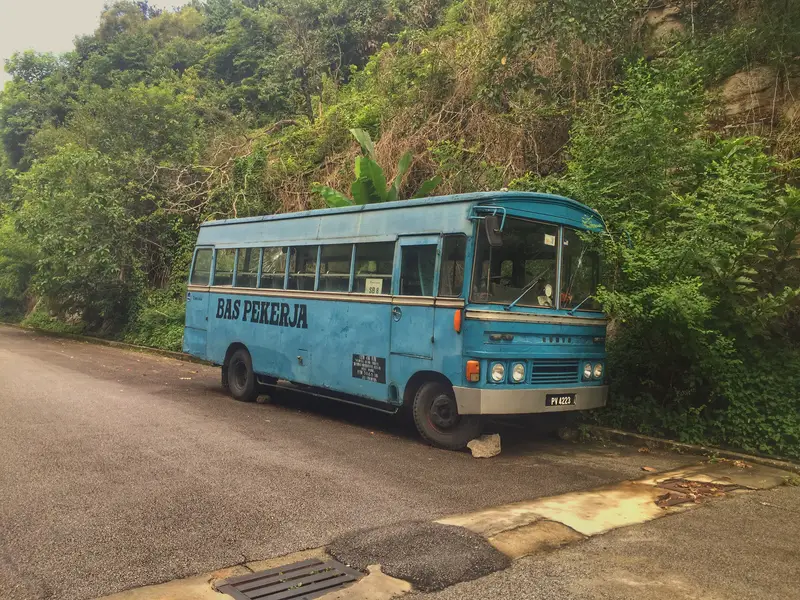 If you're sticking to George Town, pretty much everywhere is within walking distance.
There are plenty of buses that'll take you around town and beyond. The only issue is their timings, you'll never know when one will turn up. For a short trip, you'll pay a maximum for RM3 (for 28+ km journeys) and there is one free bus that does a loop. Very affordable!
Check out more on the Penang bus site.
Hiring a scooter in Penang will cost you 33-45 RM/day. There's plenty of places you can hire a scooter along Lebuh Chulia. No doubt you can get a cheaper rate for a monthly rental (haggle). Note: you'll need to show your license in order to rent a scooter.
Grab/Uber: Both options are available in Penang and super cheap. I haven't had any personal experience with them (in Penang) but everyone raves about it. The regular taxi drivers treat them as if they're mafia, something to be mindful of.
---
How Much Does Alcohol Cost?
There's a bunch of reasons I didn't drink alcohol in Penang, trying to be a bit healthier and simply, personal challenge and it's pretty much the most expensive country for beer in Southeast Asia. I'd say it is easily the biggest influence for the cost of living in Malaysia.
At a pub/restaurant you can find a bottle of beer for 15-25 RM. If you're buying a can from a shop, 5 – 12 RM depending on quality etc. I'm guessing in a club these prices would be exceeded.
For a cheap beer, head to the appropriately named 'Cheapest Beer in Penang'. You buy beer, wine and spirits from the shop then you chill out on the chairs outside. The set up always pulls a friendly crowd.
---
Entertainment Expenses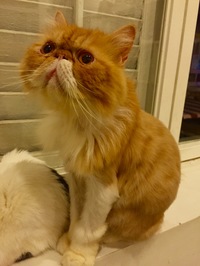 The main Entertainment expenses you'll incur are of course sightseeing in Penang. There's a few free galleries and museums about but most museums have a 15-30 RM entrance fee for adults. Scope out some discount vouchers here before you here.
I went to the Cat Cafe and Wonderfood Museum which is where the 38 RM came from for this. Highly recommend both.
---
Coke Is Bad For You:
I drink a lot of coke zero. There's some sort of promotion going on in Malaysia where you can get 390ml bottle for 1 RM. Normally a 500ml bottle will cost you 2.70 RM, a can 2.20.
This won't apply to most people. Don't drink coke.
---
Final Thoughts – Is Penang Expensive?
No, it's not, but could be if you like fancy.
You could survive on less than what I spent in a month in Penang. 500 RM straight out by staying in the hostel I mentioned above as well as sticking to street food and drinking no coca cola.
Anyhow, I hope that gives you more of an idea of what you can expect to spend in Penang each month.
If you've got any questions about pricing, lifestyle or any other situations with costs in Penang, feel free to leave a comment or you could always save this pin.