I used to think going to cafes was pointless. Going to meet friends, yea it's sweet sometimes but overpriced and a crappy atmosphere. You can't even hear your mates banter at a busy cafe.
2012 Jub: "Screw cafes, let's go to the pub!"
Jub now: "Ooooo, a new cafe, let's check it out".
Since beginning this freelance/nomad gig cafes have won be over, they are wicked – especially in Chiang Mai. Every time a new cafe is entered, it's a matter of scoping out the nearest power outlets, finding a spot where nosey parkers can't see my screen and ensuring the music is passable. Oh and for me, hot green tea must be available – otherwise, confusion ensues & disaster results in Chiang Mai. If it passes these tests, it becomes a part of the rotation.
Luckily Chiang Mai has plenty of cafes popping up all over the show – she's quite the competitive industry here.
I will add to this list over time. If you want to see them all on a map, check out this bazzy Pinterest board.
The Barn: Eatery & Design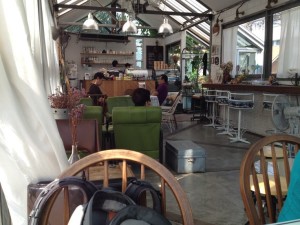 Opening, late 2014 The Barn: Eatery & Design is my favourite Chiang Mai Cafe. Located off Suthep Road it indeed has a very barn like feel. Sadly no animals though 🙁 The staff are friendly, filling up the tea pot whenever you like (if you use a tea bag only once before getting a new one, we may not be able to drink tea together) and there is no shortage of power outlets/extension cords. The seating is a wide variety with cushions everywhere and with a good internet connection combined with lots of natural light you can't go wrong..
They also have a large number of Elmo soft toys that the Thai's love getting a selfie with. When you go here, you probably should send me your Elmo selfie.
Hot Green Tea: 50 baht
Speedtest.net result: 35ms/17down/2.8up
MINGMITR Coffee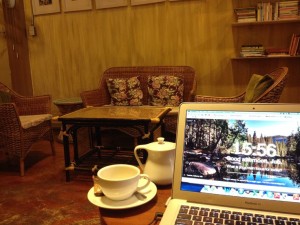 Chiang Mai Land is the chilled village where I lived in 2014. If I need to get out of the house for whatever reason this is where I go for the afternoon. It is a great option if you want no distractions cause all the digital nomads are 15 minutes away. I cannot fault this cafe, it just does not have the energy like cafes around Nimman (not a bad thing).
Hot Green Tea: 35 baht
Speedtest.net result: N/A
Bakerista Cafe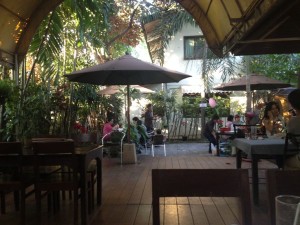 The Santitham area is not as popular as Nimman but has some great cafes hidden away. The Bakerista Cafe is mostly known for it's cakes. Want cake, go to Bakerista! The outdoor seating is nice, though the chairs feel like I've been on the scooter for an hour. There are a couple power outlets but you should just take you laptop here without the charger, that will get you being productive as your battery starts hitting the red zone.
Hot Green Tea: 60 baht
Speedtest.net results:
1. 120ms/0.31down/0.35up
2. 36ms/9.04down/1.41up
Cafe de Oasis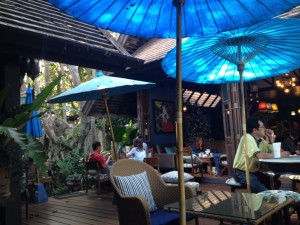 I went here before a presentation at the nearby Coffee Monster. Talk about a hidden gem! There was plenty of people there so I guess it was not that hidden but I was loving it. The outdoor seating was comfortable and relaxed with enough power outlets to keep you happy; as long as you buy a drink/food every few hours you can stay there all day. The internet was fast, especially for those Chiang Mai digital nomads who need to upload videos. The tea was more expensive than most places but the tea pot was bigger too. This is a perfect locale if you use the 700 year old stadium for ya Chiang Mai fitness dose.
Hot Green Tea: 70baht
Speedtest.net result: 45ms/5.51down/6.86up
QQ Cafe @ Suan Dok Park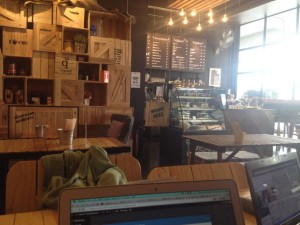 Located metres from a popular intersection (Suthep Road & Siri Mangkalajarn Road). When you walk into the cafe you would never know the traffic was there – I can never recall hearing outside noise and enjoy sitting on the comfy seats with the fluffy toys staring at you with their beady eyes ready to attack if you open Facebook. It is possible to implement a standing desk here a bonus for nomads. Internet is solid!
Hot Green Tea: 45 baht
Speedtest.net result: 48ms/4.4down/0.24up
Asama Cafe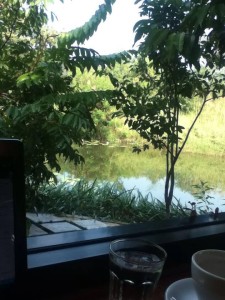 I discovered this cafe when reading a blog, hmmm cannot remember which blog! The selling point was the lady making the drinks who apparently was passionate as a man about his dog. Arriving at this cafe in a nice upper class neighbourhood was pleasant with the cafe sitting lakeside. The cafe was quite small, however all was well. The lady seemed nice enough but no passion was oozing. The WiFi was solid but after 45 minutes or so it became apparent this was not a cafe seeing many digital nomads. Given it's size we were shunted off to the side, and with only the one power outlet it was time to leave.
This cafe is a great spot on the river for a relaxing afternoon, leave the computer at home!
Hot Green Tea: 60 baht
Speedtest.net result: N/A
CAMP at Maya Mall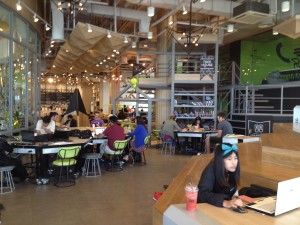 CAMP opened in late 2013 and quickly became popular with Thai students and digital nomads. I went their a few times but paying 75 baht for a hot tea every couple hours was a bit much for my liking – and dodgy internet. I just went back on Jan 2, 2015 having heard from a few friends they enjoyed it. Turns out AIS now sponsor the place in some form which means you can get an AIS sim card for 59 baht and for 99 baht a month connect to the hotspot. Apparently the connection is awesome through that, the speed test result below is from the regular connection. The two pluses are the massive varietyof seating and being open 24/7.
Hot Green Tea: 75 baht
Speedtest.net result: 163 ms/5.16down/4.14up
Akha Ama Cafe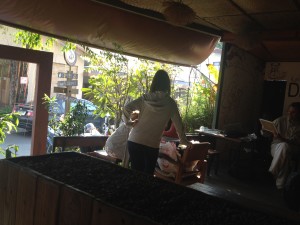 Ahka Amma, known for its popular fair trade coffee is a popular cafe for nomads. Just north of the old town it is a quiet cafe with classic cafe chatter. You can sit both inside and outside with enough outlets to stay well charged.
Hot Green Tea: No green tea!!!
Speedtest.net result: 35ms/5.85down/3.12up