Castle Hill's Cave Stream Scenic Reserve has been the location of two casualties (source).
Thankfully I wasn't aware of these two incidents before taking on the cave at the end of an epic day trip to Castle Hill with Nina and Garrett.
This post will tell the story of how we prepared for the Cave Stream Scenic Reserve, whether it is worth it, what you can expect, and other tidbits of useful information.
When you arrive at the carpark, there's a small toilet block so you can get changed and a few signs to let you know about the area. You won't get muddy going through the cave, you'll get wet so don't care about so much.
p.s. This is located in Castle Hill which less than two hours drive from Christchurch, New Zealand.
To get to the cave entrance, take the right-hand track when walking from the carpark and follow the signs.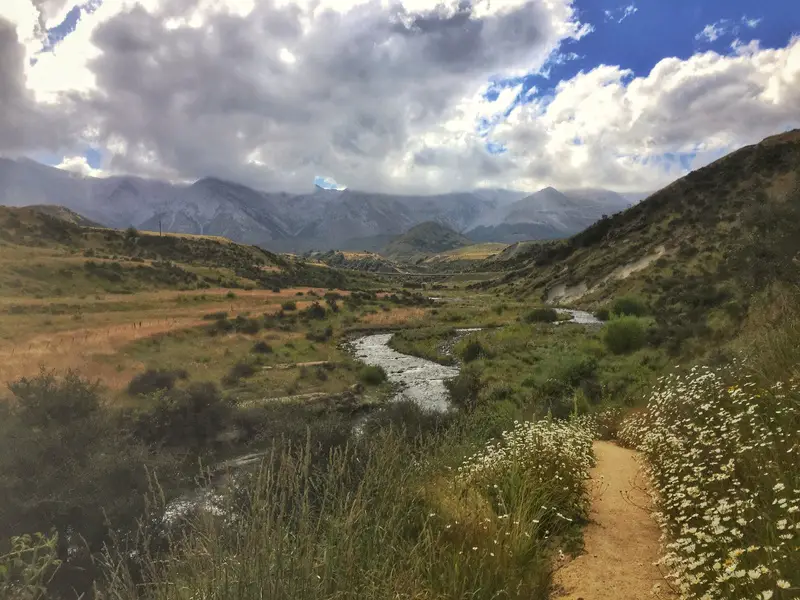 One of these signs will have some warnings which I've paraphrased below. They are actually all very sensible:
Walk against the flow of the stream. It is easier and safer.
Carry a good torch with spare batteries.
Have enough experience to undertake the trip safely.
Wear warm clothing and a hat.
Wear strong, secure footwear.
Be prepared to walk in swift, cold, waist deep water.
Understand your parties abilities and be willing to turn around if necessary.
Do not enter the cave if the water levels are high (waist level is normal)
Beware of loose rock.
These are are all wise warnings and should be taken seriously.
We made our way down to the entrance of the cave (less than 10 minutes) and this is where we started to get doubts about whether we should really go through the adventure or not. I wasn't prepared, with only my phone torch as a light, sandals (with no straps), shorts, and a t-shirt.
You really should have a head torch and secure shoes.
There was a local family at the cave entrance who recommended we not go through the cave with how little we were prepared. This definitely put a seed of doubt in my mind as I tested the first corner and was surprised to find the water reaching up around my chest. This is the deepest section of the cave though and one you navigate this section you'll be in water that is knee deep most of the time.
I went back to assess the situation with Nina, as Garrett had decided risking his mega-expensive camera gear getting damaged.
If you're with people who aren't planning to go through the cave, there is a nice little loop they can walk around which passes through the exit point of people coming out of the cave.
The family were really against us going in, but I was determined to go through with it. From what I gather, most people tend to be on the conservative side (my famous last words…).
Once I committed to going with it Nina was quick to jump on board which I was stoked with as I would have been super nervous going alone.
We got started (Nina had a small torch attached to her bag) and after navigating the deepest section we got into a good rhythm. As mentioned the water flow (this was in January a.k.a. middle of summer) was around knee deep most of the way and wasn't cold.
The family mentioned there were some waterfalls along the way that were roughly 1 metre high. This was accurate and most were easy to navigate thanks to the limestone rock inside the cave provided steady grip underfoot even with water flowing against us (which is how Chiang Mai's Sticky Waterfall works too).
There was one waterfall that was tricky to navigate and I needed to take my sandals off to climb up. I even ended up giving my sandals and phone to Nina so I could pull myself up. This was the trickiest part of the trek and if I was flying solo, my phone probably would have been waterlogged by the end of it.
While inside, the cave you won't be able to talk much as you're walking through what is essentially a pitch black corridor with vertical walls of the cave above you with the flowing water drowning out most chat. My phone light was okay, but it'd be a lot more comfortable with a proper light that gives you more than 3 foot of visibility. I feel like if there was light in the cave it'd look a lot like Antelope Canyon (not that I've been). Let your imagination run wild.
After around 35 minutes we could see the light at the end of the ~600 metre trek. The last section is the highest waterfall, where you've got to climb up a metal ladder. You'll want to have at least one hand free to navigate this as it is vertical and with a bit of exhaustion it could well be where you make a mistake. Once you are up above the river, you've got to squeeze under a rock that is a bit awkward. Take your time and you'll be good as gold.
We made it! In total it took us around 40 minutes from one end to the other.
The walk back to the carpark is about 10 minutes which is a good chance to wind down before cleaning yourself up in the toilets. We weren't dirty at all, but you will be wet.
Is it worth it?
Well, you don't exactly see much (hence a lack of photos) but it's an emphatic YES YES YES from me. It was super freaking cool being able to go through a pitch black cave where you can't get lost (there's only one route) without a guide.
Final Two Cents
If you're going in summer, as long as there hasn't been any heavy rainfall recently, you shouldn't be concerned about the temperatures or the water flow (don't hold me accountable! I'm no pro). In winter, you might think you've got gorgeous blue skies and a warm day, but keep in mind that as the snow melts, the water ends up running through the cave. This means the water levels can be higher than you'd expect and colder. Continue at your own risk etc.
YAY! PINTEREST.