THIS POST MAY CONTAIN AFFILIATE LINKS. PLEASE READ THE DISCLOSURE FOR MORE INFO.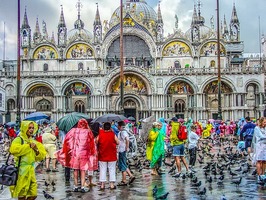 Carrying a rain jacket when you're travelling isn't always convenient. Especially when there's only a 50/50 chance of rain you'd rather not add extra weight to your day pack.
The best rain poncho is a great alternative though as they're lightweight, cover your backpack and slip on easily.
Short on time? This is the best all round poncho for travel.
I was always guilty of running into 7/11 when travelling around Southeast Asia and getting caught out in the rainy season to buy a flimsy poncho as they were cheap. But they are:
bad for the environment
awkward to put on
only cover your top half
They aren't exactly the best poncho to last a couple days, let alone 2018.
When I was given a proper poncho, it was an enlightening moment!
Before we talk about ponchos and the models in this review, here's a comparison table for reference.
Did you know there are two types of ponchos? The general theory is there are:
Waterproof rain ponchos: to keep you dry.
Woolen ponchos: to keep you warm. Rocket science right?!
In this piece, we'll focus on the best lightweight rain poncho we can find. No one likes walking into their accommodation looking like a drowned rat yet? (been there before)
Is A Certain Rain Poncho For Women Or Man? Or Are They Unisex?
A legitimate question. In general, ponchos are not a fashion item so if a poncho advertises itself to either a man or lady, it really should be unisex.
Waterproof Ponchos – Are They All Same Same But Different?
All in all, the ponchos are more or less the same. Of course, they are all going to be rain-proof otherwise what is the point. They're all made from different materials which mainly affects the weight while the way the seams are built will test the ponchos durability. They all come with a carry case too which is always a nice touch…otherwise you end up carrying around a wet poncho which is never fun.
What Are Rain Ponchos Made Of?
There are lots of materials suitable for backpacking ponchos, but the ones here are made of polyurethane, polyurethane, an exclusive paratex dry material, polyester and a nylon/polyester blend. Definitely some varied materials in each poncho.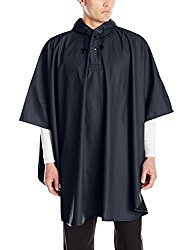 The Charles River poncho is certainly the most attractive poncho with 17 bright colours available. Made of a New Englander waterproof polyurethane this is a solid lightweight poncho with a drawstring hood and snap closures at the neck and sleeves making sure the water doesn't get to you.
The heat-sealed seams and knit backing helps the durability to ensure the highest quality is maintained each time you take it out of the matching pouch.
Weight: 1 pound
Unfolded dimensions: 52 x 80 inches
---
2. Frogg Toggs Poncho – Best Lightweight Poncho For The Everyday Traveller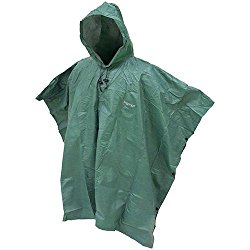 Is this is the best lightweight rain jacket? BREATHABLE non-woven polypropylene material is a big help here. The seams use a patented welding technique which means that while it is waterproof tends not to be as durable as the other ponchos here.
This one comes in two colours and as a breathable poncho you can cover your backpack completely while you wear it without you turning into even more of a sweaty mess than you already will be.
For those who have minimal space in their backpack, this lightweight option provides perfect mobility.
Weight: 8.8 oz
Unfolded dimensions: 80 x 55 inches
---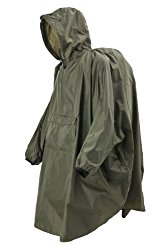 The Snugpak poncho is the traditional kind of poncho you pop over your head (and backpack if required) to keep you dry or can even be used as a temporary shelter in emergencies. The hood is adjustable via loops and there is a map pocket sealed with a storm flap via velcro.
Snugpak have constructed the poncho with their exclusive paratex dry material making this the ideal poncho for those who aren't expected to get caught in many downpours.
Weight: 1.4 pounds
Unfolded dimensions: 76 x 60 inches
---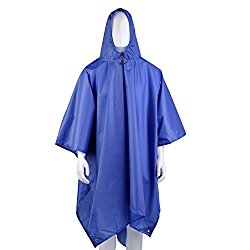 Are you sensing the pattern here? Two colour options (blue and orange) are available again in the design of the well-designed travel poncho by OUTAD.
Made of 210T polyester fiber they make it clear it's designed to be both waterproof and rain-proof. The multipurpose poncho doubles as a tarp (ie. it's large) making it more like a raincoat for those who are always hiking or camping on their travels. You could even use it as a picnic blanket!
In my opinion, this is the best rain poncho for backpacking long term.
Weight: 9.2 oz
Unfolded dimensions: 86.6 x 57 inches
---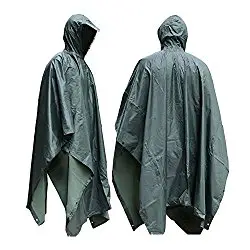 The JTENG poncho is more of your usual survival/hunting /long rain poncho you are possibly more familiar….they even recommend it themselves as a Halloween costume!
Available in two colour patterns, this lightweight waterproof poncho is 100% made from rip-resistant nylon/polyester material.
The construction has grommet corners which you can use as an emergency shelter/sleeping bag which when your travelling shouldn't be required.
This is a great hiking poncho if you plan to hike a lot on your travels and the weight is ok with you.
Weight: 1.88 pounds
Unfolded dimensions: 55 x 59 inches
---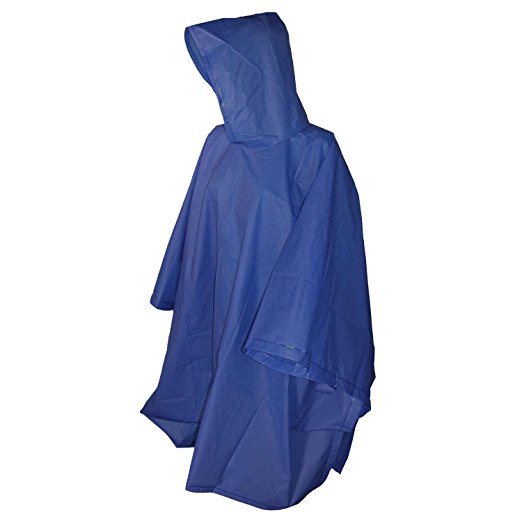 As one reviewer put it on the Amazon page you'd put this down as the best rain poncho for hiking as he adventured around volcanoes in Costa Rica suffering just the one small rip when putting the poncho over his pack. Made with a waterproof EVA material, the totes poncho is a pullover poncho which can expand to cover your full body.
Available is a few different colors, most people found the one size fits all to work alright. The only issue is when you're in windy conditions, the side snaps can un-snap. This poncho will never replace the best rain jacket for hiking, but you pay for what you get and this should do the job for a number of hikes.
Weight: 9.6 oz
---
And there we have it, my reviews, details, and thoughts of a good poncho for trekking and travel, in general, is complete. Now when you travel, rain poncho or not…you have an idea of what to look for and expect in your search of the best waterproof poncho for travel.
If you'd prefer 10x cheap disposable rain poncho these will do the trick. Or go to 7/11!