THIS POST MAY CONTAIN AFFILIATE LINKS. PLEASE READ THE DISCLOSURE FOR MORE INFO.
Getting sleep when travelling isn't easy.
It's even harder when you're looking to save money on accommodation sleeping in dorms and on planes, trains, and buses. Choosing the best eye mask for travel will help you sleep better so you can maximise your travel time.
Short on time? This is my favourite eye mask.
I was always nervous about wearing an eye mask. There's something weird about having something over your eyes. I'm jumpy at the best of times, let alone when it's total darkness with travel eye masks.
Thankfully I soon got used to the feeling of my eyes being covered when I wake up. Considering their cost, they're a brilliant travel companion.
This table of the products will help you get started before you carry on reading below. Feel free to ask me any questions by email: jub (at) tikitouringiwi (dot) com
---
What Is An Eye Mask?
An eye mask is a piece of material that covers your eyes and can extend to your temple and cheeks to help you sleep. It is usually held comfortable against your face with an elastic band around your head.
Why Do I Need An Eye Mask For Travelling?
Travel is exhausting so whether you're a luxury traveller or a budget traveller (me), you want to maximise sleep to make the most of your waking hours. When you wear a travel eye mask for sleeping you're less sensitive to light, a sign it's time to wake up.
Benefits Of Using The Best Eye Mask For Travel
Get to sleep faster: in a hostel, you're trying to get an early night but everyone else is still moving about the room. Wearing an eye mask will ensure you give yourself the best chance to sleep right away. Same with transport and anytime you need some quick zzz's.
Increase in melatonin: We aren't going to get technical here. If you'd like to, check out some 2016 melatonin research here and why it's critical for sleep here..
Understand, we need melatonin.
Cheaper than other sleep inducers: Even the best eye shades for sleeping aren't going to break the bank (unless you spend $3000 on the L'core Paris (with diamonds) eye mask). There are plenty of things that can help you sleep better on flights, such as sleeping pills, but prolonged use of these sleep alternatives for travel will be more expensive in the long run and could lead to dangerous additions.
Myself, I have an addictive personality so need to be careful what I get involved in.
Some eye masks have fragrance: Dorm's rooms don't have nice smells at the best of times. It's usually horrendous. If you get an eye mask with a fragrance, you can feel slightly better sleeping.
Less jet lag: Nobody seems to be able to get jet lag under control. You can certainly give yourself the best shot though. Using an eye mask on your long hail or short haul flight will help you fall asleep when you need to. Then you can hit the ground running.
Clearer skin: Our skin is the bodies largest organ and skin heals itself when we sleep. The better you sleep, the better your skin will look the next day. Related tip: if you're battling bags under your eyes, use a cold cloth and hold it against your eyes to reduce the swelling and bags.
Routine: Having a routine makes life a lot easier, especially before sleep. With technology at our fingertips, anytime you notice the light from your phone light up it's tough to ignore the notification. Before you know it, you're back on the internet train. With a sleeping mask, you'll soon adjust to knowing it's sleep time when the mask goes on.
Better health: a good quality sleep thanks to an eye mask will benefit your memory, weight, immune system. Basically your whole well being.
Negatives Of An Eye Mask For Travel
Easy to lose: They're tiny and given the majority are black, can easily merge into backgrounds. You need to be disciplined with your organisation if you want to keep your eye mask long term. There's an easy solution though, buy a few and leave them in various places such as your toiletries bag, bedside table, desk, backpack or if you aren't travelling solo, give on for your travel partner to look after.
Become reliant on them: You aren't a great sleeper before you got your mask, but sleep like a baby with one. This could make it tricky for those occasions when you need to sleep but don't have your sleep mask with you. Easy solution, like above get a few of the favourite eye masks and put them in various place.
Not comfortable: Everyone is going to act differently when you sleep with an eye mask for the first time. A few nights in, you'll be away laughing if you have the best travel eye mask or not.
Where To Buy An Eye Mask Aside From Amazon
In-flight: Depending on your airline there's a few ways you might get access to one.
By pre-purchasing a comfort pack (budget airlines do this for the extra revenue)
You might have one waiting in your seat pre-flight (some airlines – the more establish airlines do this)
Ask. You can't get if you don't ask (no experience at asking for one)
They're easy enough to find in general stores at the airport.
If you want one now, check out your local pharmacies and large retail shops.You might not see them every day, but once you start looking they aren't hard to find.
If you want the best sleeping eye mask for your travels, you'll likely need to go online. Most of the above brands will only have a couple lower quality eye masks in stock.
What Is The Best Eye Mask For Travel?
The best eye mask for long-haul travel or sleeping in your bed is the same.
Things To Look For When Buying A Sleep Mask For Travel
sits over your eyes nicely while not letting any light in. Just because there's a cool sleeping mask that looks cute or awesome, doesn't mean it's best.
doesn't block your nose
ideally it will be washable
adjustable straps
Note: if the eye mask isn't adjustable and hurts your head when you take it off, then it's too tight.
If you looking for a quick and simple travelling sleep mask to stash in your carry on, this mulberry silk shade will do the trick. The headband is adjustable from 16 – 27 inches so if a friend needs your mask, you can be a good friend. The strap was designed to not get tangled in hair, with the clip at the back not bothering customers like they expected.
Users report minimal interference with the nose, though there customer service is great so if you aren't pleased with the product their team will provide you with a new mask or a refund. You might couple ALASKA BEAR sleep masks as they offer discounts for multiple purchases.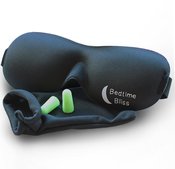 The Bedtime Bliss® eye mask is lightweight yet contoured allowing you to leave your eyes open if you just want to rest with the mask on. Ladies, this also means your make up won't smudge!
The nose ridge is also contoured, no annoying pressure around your nose!
The company are confident in their product. If you aren't happy with your eye mask while travelling, get in touch with them and they'll look after you.
They are heavy on the benefits of napping with the mask on, which is great for travel as napping can become a way of life.
In addition to the adjustable strap they provide an e-book, to educate yourself further on sleep as well as ear plugs and a pouch for your eye mask when you purchase (while stocks last).
The Bedtime Bliss® Contoured Sleep Mask is one of the best sellers with over 5,000 reviews. The sheer amount of this means you can trust the company to treat you well.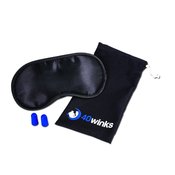 The 40 Winks is a great eye musk for long-haul flights when you're jammed in an economy seat and just want a slight bit of luxury. The feather inner is protected velvet on the inside, silk on the outside. With a construction, built to withstand washing regularly.
The luxurious materials fit snug against your skin, with the padding not overbearing on your face.
If you don't find yourself sleeping better after 60 days, request a refund via their 100% money back guarantee.
Given the materials, the 40 Winks Silky Super-Soft Sleep Mask makes an eye mask a great travel gift.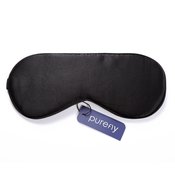 The research from Purefly that's gone into making a quality eye mask travel cover is incredible. The natural mulberry silk has durable protein fibers, biocompatibility with your body and as an added bonus is hypoallergenic for those who are prone to allergies.
The eye shade is crucial to make the best eye mask for sleeping so they made it double sided with silk to minimise any irritation you may feel.
They consistently get high ratings, and appreciate their customers who are often repeat customers. To show their appreciation Purefly offers discount codes for repeat customers. Just reach out to them.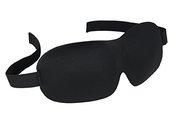 Virtual reality and 3-D are two words that are becoming norms in our life. PLEMO have implemented 3-D manufacturing to come with memory foam that's guaranteed to fit your face to create what they believe is the best sleep mask for travel.
The memory foam wasn't any old foam, it sits in fabric ensuring it is breathable, versatile for all travel situations you end up in, latex-free and hypoallergic.
Rather that just a elastic strap, the PLEMO Silky 3D Contoured Eye Mask has velcro straps, with fasteners, for a better fit.
What's The Best Sleeping Mask For Travel?
Still reading, if you are, I'm guessing you are looking for my opinion. Regardless of what you are looking for, these are best eye masks for travel. Purposes solely are rather different. I choose the Purefly mask, I'm a bit of a health nut and like the focus on these qualities in their product.
What is the best eye mask for travel for you?