THIS POST MAY CONTAIN AFFILIATE LINKS. PLEASE READ THE DISCLOSURE FOR MORE INFO.
When it came to ranking the best beaches in Langkawi it wasn't as simple as putting them on a scale and that being right. They are quality though! National Geographic listed the Langkawi beaches in their top 10 worldwide.
People have different reasons for visiting a beach so I've described the beach, my thoughts and let you know who the beach is suited for.
The Best Beaches of Langkawi
---
Tanjung Rhu Public Beach
Best. Sunset. Ever.

Depending where you stay on the island, this could be a long drive as it's in the northeast but the drive is worth it! When you arrive at the barrier (you can't miss it) you'll need to register before you are allowed access. If the guard doesn't let you in, head to the resort on your left, walk through the resort make your way to Tanjung Rhu Public Beach.
This Langkawi sunset was definitely the pinkest/purpley I've ever seen which made it the best of the best beaches in Langkawi (despite this list being in no order). It was a solid sunset already but it went to another level once the sun had gone down! Take your time and wait 20 minutes after the official sunset to see the colours change (when clouds are in the sky).
The beach is 1km+ long and is full of beautiful whte sand bordered by lush green forest.
Best suited for: Sunset chasers, sea kayakers & those who like to explore every nook of the island.
RELATED TOUR: EXPLORE THE NEARBY MANGROVE RESERVE
RELATED TOUR: BOOK YOUR SUNSET BOAT TOUR

RELATED POST: 7 EPIC VIEWS IN MALAYSIA (including Tanjung Rhu Beach)
Black Sand Beach
Some Love It, Others Not So Much

Langkawi's Black beach was blacker than Pink Beach I visited in Indonesia. The sunset was still spectacular but it has nothing on the pink sunset above. There are some market stalls before you enter which can be handy and there were some traditional boats on the water's edge. In fact, having written this, I like Black Sand Beach! It's not for everyone though. The sand is firm making it a good backyard cricket spot!
Best suited for: People staying on the island for more than a couple days who need to see every part of the island. And for throwing around a frisbee.
Shark Bay Beach
A Picture Perfect Picnic Spot

I didn't stay long at Shark Bay Beach but was impressed by how far the tide goes out with the water remaining shallow.
Best suited for: Those who want to have a picnic on decent facilities under the shade before heading onto the beach
Jalan Tanjung Rhu Road Beach
For Those Who Want To Check Off The Beaches

There was nothing special about this beach for me other than the ability to drive right up to it. With the best sunset a few km's down the road, this beach is cool but didn't have any particular WOW factor, plenty of jet skiing possibilities.
Best suited for: People staying in the hotels in the immediate area such as the Four Seasons and don't have great mobility and jetskiers.
Pantai Tengah Beach
Water Sports 'R' Us

Pantai Tengah Beach is directly south of Cenang Beach and is the haven for those who like their water sports. Swimming isn't practical here (probably not allowed) but all of the water activities in Langkawi are on offer here; jet skiing (even jet ski tours), paragliding, banana boating, waterskiing and wake boarding.
Best suited for: Adrenaline junkies (or who those who are brave enough) wanting to try various water sports and those who want to tick off all the top things to do in Langkawi while they're here.
Pantai Cenang (Cenang Beach)
Typical Tourist Beach

The most famous beach in Langkawi is like other popular beaches around the world. Plenty of people, plenty of facilities as well as food and drink options. Cenang Beach is located next to Cenang (obviously) around about a 20 minute drive from Koah, making it perfect for those who want to stay close to everything with a beach on the doorstep. You can definitely swim here, just watch out for the jet skis!
Best suited for: Those who don't drive and want easy access to a beach and everything facility wise.
Accommodation in Pantai Cenang: Book Now – Options For All Budgets
Els Beach
Graceful As Ernie Himself

Els Beach is not an official beach but I managed to find this quiet oasis. To get here you go down the closed road which isn't dangerous at all. When you pass Black Sand beach entrance, keep on driving and the 'closed road' is a few minutes after the Langkawi Falls turnoff.
Best suited for: Those who want some peace and quiet, keen fisherman who like to use rocks as a base (stay safe!).
Kok Beach
Kok Beach gets overlooked for the most part with people skipping right past on the way to Langkawi's famous cable car. The great part about Kok Beach is being able to drive right up to the beach making it one of the best beaches in Langkawi for those who have small children and/or like to bring lots of things to the beach. In the bay you will find a handful of boats. It's not really a beach for swimming, bring the Frisbee.
Best suited for: Families & those who bring lots of 'stuff' to the beach.
Skull Beach
The Locals Favourite

Skull Beach is the best beach in Langkawi for the locals. You're able to go here to get away from the crowds where people aren't so nice (generalization). Of course, there are tourists hanging out in Skull Beach but it's overall a pleasant place for those who make the effort to get all the way there. It's in a bay with trees providing plenty of shade. For the sun chasers, the sun had started to go down behind the trees around 4pm so it's best to get their earlier.
Best suited for: People who like to go on an adventure and want some relative peace.
---
There we go! My thoughts on the best beaches in Langkawi. Below is a bit more information about Langkawi I think is useful including where to stay in Langkawi, how to get there and a couple of resources.
RELATED POST: WHERE TO VISIT IN MALAYSIA
Best Hotels – Where To Stay In Langkawi
Before you try to tackle all of the beaches in Langkawi you'll want a roof over your head. I've got you covered.
The variety of accommodation in Langkawi is huge with lots of options less than $10 and plenty of places that'll set you back $100+/night along with everything in between.
I stayed in the center of the island but met people staying in various places that I popped into and of course, saw the flash spots around Tanjung Rhu.
This isn't the largest list but provides good options for budget conscious backpacker, flash packers, mid-range travellers and those who appreciate life's luxuries.
Budget Accommodation In Langkawi
$7-$10
Hostel El Studio
Located close to the ferry, this hostel is great for those arriving later in the day. You won't be close to the main touristy areas but the (awesome) hosts offer affordable tours around the island or you can rent a motorbike and explore on your own. If you're flying in/out of Langkawi, this isn't for you.
Vila Thai
Located a short walk from Pantai Cenang, the hostel is located off the main street giving you a bit of an oasis away from all the people on the main road. If you want to go exploring, there are bikes for rent at standard prices.
Bunk Inn at Shaka
A stay at the Bunk In at Shaka is a great idea for those planning to stay for at least three days. You'll become friends with owners, the dog while you can hang out in the open spaces. A 5 minute walk from Pantai Tengah this is just as good a spot as any to base yourself close to the action.
Shell Out Chalet
Close to Pentai Cenang, the private parking is a real draw card when booking Shell Out Chalet for those who are safety conscious. The a/c are notably tidy and your host Steve will make sure you are well looked after.
P Motel Langkawi
If you want to be away from Pantai Cenang and have a central island location, P Motel Langkawi fits the bill. There's a couple of restaurants and a supermarket nearby, but having access to your own transport is a must here.
Boxpackers Hostel
A common theme for all these places is their friendly owners and June at Boxpackers is no exception. 300 metres away from Underwater World, if you don't like driving you will be fine staying here. Ask the staff for their favourite restaurants!
Mid-Range Accommodation In Langkawi
$30 – $60
Motel Tanjung Puteri
If you're looking for somewhere a bit relaxed and quiet, this is your spot. The accommodation isn't flash though it's cozy with 24 hour reception and a/c ensuring you are always welcome, especially once you put the kettle on.
Best Star Resort
The Best Star Resort has all the basic amenities you want right by Pantai Cenang. There's a swimming pool for when you return from your days activities that can be all organised at the resort. When it's time to chill out, head to the coffee garden.
Luxury Accommodation In Langkawi
$75+
Andaman Luxury Resort
You'll be on the edge of the rain forest when you stay here with coral reefs also nearby. This is a real getaway away from the rest of the tourist spots. The large rooms have all the amenities you need with a variety of award winning restaurants on site. Water sport options include snorkelling, windsurfing and canoeing.
Four Seasons Resort Langkawi
The Four Seasons brand always offers a luxury experience, this time right by that epic sunset you saw at the top of the list. With a pool, private cabanas, bars, restaurants and quick access to all the water activities you want, it's time to embrace the luxury.
---
Useful Information Before You Go To Avoid Disappointment
One thing that isn't mentioned here is the colour of the Langkawi water. Many islands around Southeast Asia have a magical blue colour where you can see way down into the depths providing epic photo opportunities. This isn't the case with Langkawi. Don't be disappointed if you were expecting a crazy blue color. You can still take epic photos of the nicest beaches in Langkawi for friends and family back home!
How To Get Around Langkawi
The best way to get around Langkawi island is definitely scooter. Scooter rentals in Langkawi range from 25 – 40 ringgit/day and petrol is ~2RMB/litre. You can also rent a car as taxis on Langkawi are a robbery (and not convenient). Public transport? Barely exists. Keep this in mind when choosing your hotel.
Other Things To Do In Langkawi
Langkawi has a lot more to it than some of the nicest beaches in Southeast Asia. Here are a couple links to help you in further your research to ensure you have the best time on Langkawi!
Mark made a post about 10 of the best things to do in Langkawi here or justify a trip with these 10 reasons suggested by Four Seasons.
Pin the image below for your Langkawi arrival time.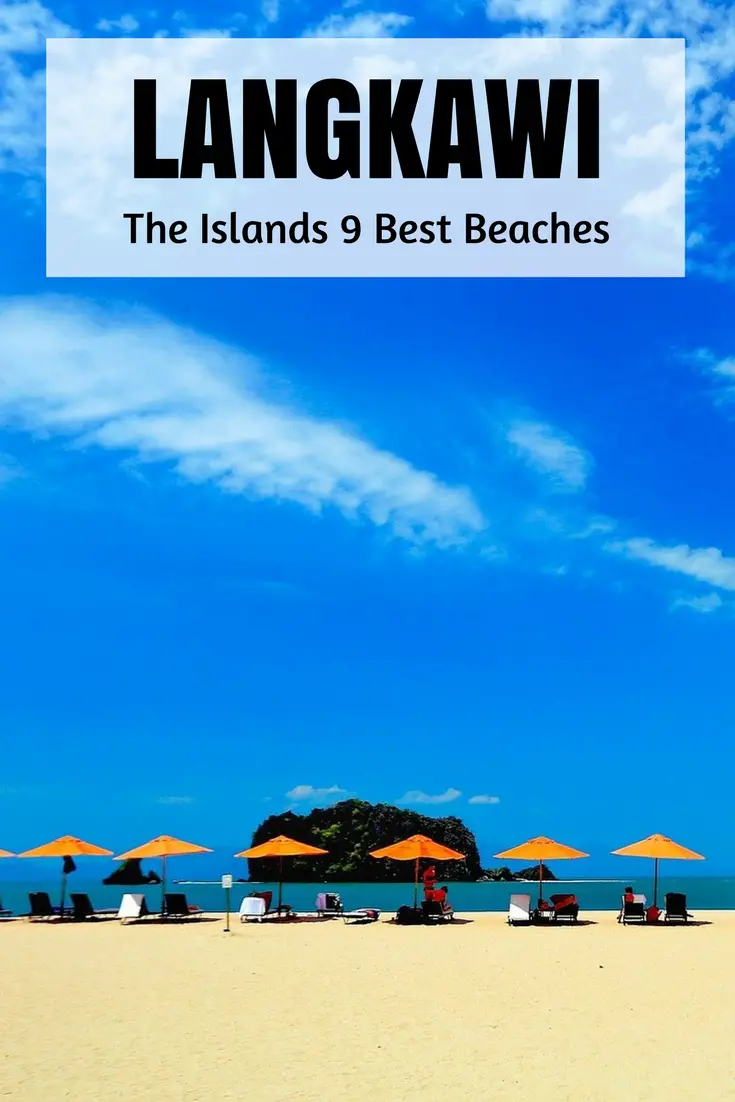 Note: There are some affiliate links on this page. If you choose to purchase accommodation through these links, I may receive a percentage of the sale. It will not cost you any extra. Cheers.